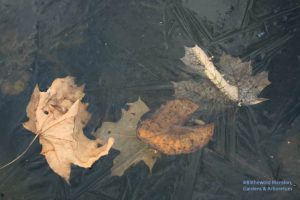 We've been hit.  And just like back in June with the sucker punch heatwave, there hasn't been a chance to acclimate.  All of a sudden in a bitter wind, the plants have turned inside out and I have frozen solid.  There's a crust over frogs and underfoot and a biting cold that probably has massage practitioners working overtime to un-hunch shoulders.  We're not ready for this!  It did finally dawn on me this morning, after a week of shivers and complaints, to wear more clothes… And I do think the one way to get used to it is to get out in it.  — I'm working up to that, I really am.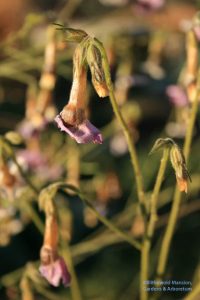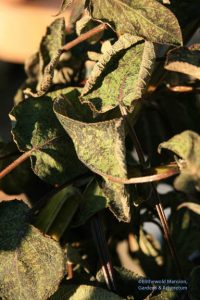 We still have outdoor projects that we're tackling in mad dashes between restorative cups of hot tea:  We could cut down all of the plants, like this Nicotiana mutabilis (left) and Salvia tingo (right) that we left standing until the bitter end.  Our landscape is no longer graced by their presence and for the sake of public garden tidiness we've gotta get 'em out.  (That's not to say you shouldn't procrastinate clean-up until spring.  You certainly could and the critters will thank you for the extra cover.)
Today we busted through a crusty earth skin to heel in the last few frozen plants we had left over from our North Garden furniture rearranging.  I can say that it's not too late to do this because there have been times our plants have stayed in bossbags under the arbor – and by some miracle (you can't kill a daylily) they lived to be planted in spring.  But these plants are happier in the ground now, no doubt about it.
We've still got veggies to pick – the Swiss Chard and beets have a few tender leaves left, and the Brussels sprouts will be even sweeter for the hit.
When it's cold out it really takes determination to slow down, breathe deeply and open your eyes from a squint.  But there is so much beauty in the unfolding death of winter and it's too easy to overlook – especially if you can't see out from under your hat or swivel your neck inside scarf layers for fear of a draft.  But getting out, for starters, and breathing deeply will help your wimpy autumn skin to acclimate.  – Just think, soon anything over 32°F will feel pleasant!  And if you bring your camera, like I did, you can gaze leisurely at the pretty things while wrapped in a blanket with a cup of tea in your hands.
What are you doing to get acclimated to winter?  Do you still have last minute garden chores?  'Fess up now – are you still planting?