"Nothing lasts."  That might sound pessimistic to the average bear but to a gardener it's a liberating, life affirming and exciting truth.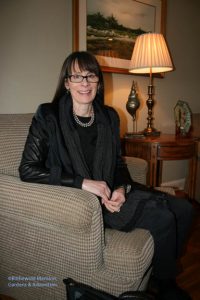 Yesterday a lucky group of gardeners and Blithewold supporters had the pleasure of listening to and laughing with Margaret Roach (former editor of Martha Stewart Magazine) as she talked about 365 days of gardening on her property in the Berkshires.  She showed slides of her garden's transformation from a steep hillside populated with fallingdown outbuildings and plastic lawn furniture to a steep hillside of gorgeous gardens, meadow and fabulous mountain views.  We were treated to full disclosure of hilarious rookie mistakes, tragic losses, happy accidents and sublime moments – what gardening is all about.  Margaret encouraged us to defy "conventional wisdom" whenever our gardens require us to be more creative.  Question authority (even when the authority is Martha Stewart)!  Be willing to learn from and laugh at the mistakes you make along the way.  And suffer the failures and losses with the hope and optimism of fresh opportunity (new plants!).
Margaret also gently chided us for saying "the season has ended".  For her, and you can read her philosophy on her blog A Way to Garden, the garden year begins with "conception" and continues through to "senescence" and death.  Nothing lasts – but the whole process is precious.  To ignore or deny the truth and beauty of the garden's decline is to miss part of the point of gardening – as much as denying a bud in spring.  We gardeners know it's true and yet it's a good reminder to hear a kindred spirit say it out loud.  Maybe don't be in such a rush to clean up, she says and enjoy the fade.  And even if you're like me – ready for a break, inclined to be indoors when it's cold out – go back outside – in your p.j.s if that's what you're wearing, and take another look at the garden.
This year's Garden Design Luncheon was a roaring sold out success – everyone involved with organizing it did a fabulous job – and I overheard all sorts of buzzing about how wonderful Margaret's talk was.  For me, the day was extra special:  Not only did I have the honor of walking around Blithewold with Margaret (sadly, the frogs were chilly and anti-social), but I also sat in the fun-seat next to Layanee and her friend Lois at lunch (it was like being at the kid's table).  Layanee promoted the luncheon on her radio show (The Garden Guys – and Gal), gave away tickets and also took the beautiful portrait of Margaret shown above.  Thank you, Layanee!
In honor of Margaret's visit, for Garden Bloggers Bloom Day (hosted by Carol at May Dreams Gardens), here are some of mid-November's gray hairs at Blithewold:
What's growing old in your garden?