Monday, May 10, 2010
|
|
garden design
,
greenhouse
,
How, When, What-we-do
,
planting
,
Spring
,
tomatoes
,
vegetable garden
,
vegetable garden
,
vegetables
,
weather
,
weather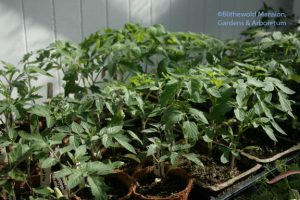 We're currently experiencing the weather that your local nursery professionals warned you about. We haven't had a frost here but I'm still glad that our tender plants are still safely tucked up in the greenhouse. The wind over Saturday night was fierce and brought distinctly April-like (a true April, not like the April we just had) temperatures with it. And those temperatures are here to stay for the next few days. There may be a little residual warmth left in the soil from the last few weeks but such chilly nights will likely set it back a bit again.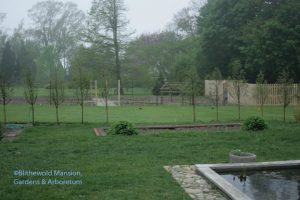 Just like most of you, we're anxious to plant the vegetable garden. We're even itchier to get into the garden than usual because it was recently redesigned. Blithewold's director of horticulture, Fred and his able assistant Dan have given Dick, our vegetable gardener extraordinaire, four large quadrants to plant in. They even built an adorable log cabin support for a super abundance of pole beans. (We might just make up for giving them all to the deer last year.) The whole garden is fenced against the deer (though not against a hapless neighborhood pooch who will hopefully remember that it's there the next time she takes off running. Then again, she is a lab…) and perhaps as soon as the beans go in, the garden's gates will too. We'll have to be careful to lock the woodchuck and rabbits out rather than in…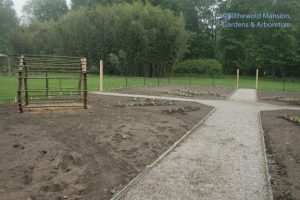 Gail and I have commandeered the center of the garden – we couldn't help ourselves – and have plans for spokes of flowers – millions of nasturtiums (dozens anyway) – and some of our favorite ornamental vegetables. We also want to do a little experimenting with companion planting and Dick is game to try it too. Do beans really hate onions? Will aphids go for nasturtiums over broccoli? Why would peas love carrots? Have you noticed any particular successes or failures with companion planting in your garden?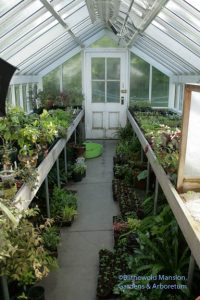 Our tomatoes and basil (they are reputedly good partners, not just in salads) are growing on inside the greenhouse. The only things that we have planted out so far are the cool season crops – like peas – and our sweet peas, spinach, lettuce and cabbage. Artichokes, broccoli, cauliflower and kale are hardening off and waiting in the wings for another planting session with the volunteers this week.
Are you being set back by the weather or pushed forward? Are you planning and planting anything new and different in your vegetable garden this year?