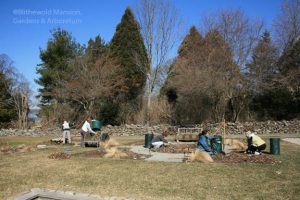 The weather has been so mild this past week that we couldn't help but be outside cleaning up – about two weeks ahead of last year.  And I know we're not alone – it seems like everybody has been out, raring to go as if we've all had a wicked case of cabin fever.  It really is amazing how balmy and warm the 40's and 50's can feel when the sun is at just the right angle.  Two groups of volunteers came in to cut back and rake out the Display Garden and the North Garden and today, our one gray day, Gail and I worked on the dry shade bed by the Moongate. To me there's almost nothing else as gratifying as revealing hidden growth with a gentle raking or a snippage of old foliage.  In the Display Bed we discovered a carpet of Teasel seedlings; in the North we uncovered the velvety beginnings of Lady's mantle (Alchemilla mollis); and in the dry shade bed we found some tiny daffodils nearly ready to bloom under the Lily turf (Liriope) straps.  Here is a partial list of the other plants we cut way back this week:  grasses (except the Stipa), echinacea, chrysanthemum, sage, nepeta, hakonechloa, Siberian iris, epimedium, geranium and some clematis (careful – there are a few to not cut back…).  I know I'm forgetting some. If you have questions about anything to cut or not to cut back, feel free to leave a comment.
Everything changes so quickly in a few warm days.  It's not just us gardeners who are all of a sudden out and about, but the entire landscape is taking the cue to get up and out too – just in time for the official start (tomorrow, is it?).  And if we don't take a minute to notice it starting now, we'll miss the transition altogether and end up in June wondering what the heck happened to spring.  I can't deny that this is my favorite time of year.  I am such a new-growth-on-plants junkie that I will give any emerging leaf my undivided attention (this could explain my addiction to houseplants…) and no matter how busy I am,  I don't want to miss a single one.  So in between spring chores I try to make note of the so-subtle additions of color washes to the sepia landscape, listen to the increasing cacophony of bird voices and keep my eyes peeled for anything new.
Gail and I finished up today just before the … hail.  Of course we always worry a little about taking away all of the plants' lovely leafy insulation, but it's time and they will be fine.  Have you done your cut back, clean out yet?  Are you keeping a mental or actual log of the signals of spring?