Friday, May 15, 2015
|
|
bulbs
,
Daffodils
,
Garden Bloggers Bloom Day
,
How, When, What-we-do
,
May flowers
,
North Garden
,
Rock Garden
,
Rose Garden
,
Spring
,
tulips
,
tulips
,
what's blooming
,
what's in bloom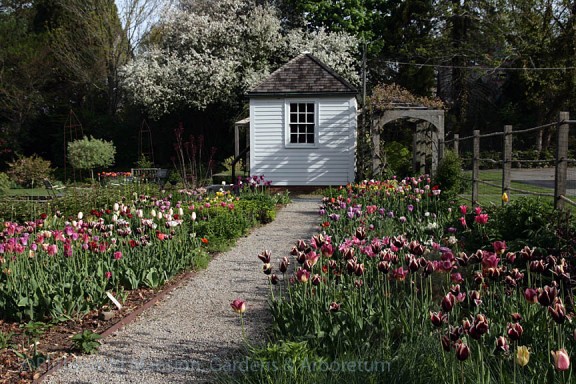 It's not often anymore that my posts fall on Garden Bloggers Bloom Day and I'm thrilled for the excuse to post endless pictures of what's happening on the grounds right now. The daffodils have pretty much gone by, except for the extra-pretty latest ones, but spring is ready to move on and so am I. May is the most charming month — it happens to be the meme host's and my favorite. (I reserve the right to change my mind come June and then again in September.) And I hope the photos below inspire you to make a return visit this weekend or stop by for the first time ever.
I also can't let another post go by without doing a tulip roundup. They have been stunning! And they won't last much longer. Pretty soon — within the next two weeks — we will pull them out as they go by to begin planting annuals and tender perennials in their place. We took a moment the other day to name our favorites (see captions below) and even chose combinations for next year's Rose and North Garden displays. Have you been critiquing tulips too and making a wishlist for next year?
What's blooming in your May garden?