It is prettier than the old map, interactive (click on it to check out the zip code zone finder), and the information is finally up to date. But it's not good news and there are no surprises here. Nothing we haven't already figured out for ourselves. The new map is based on weather-station data collected between 1976 and 2005 (as opposed to the 1990 map, which was based on data from 1974-1986.) I'm actually surprised at the similar spread of years used in the data collection – it feels like the temperature changes have been more wildly noticeable in the years since the last map was drawn and with that bias the map might tell a different story. We are living through proof that wild swings occur from one year to the next and so far this wimpy winter could count to notch our zone even higher.
Blithewold is solidly within the very cusp of zone 7a. (My garden a mile and a half away is 6b.) But we have always called it zone 6 to play it safe. That way we can be pleasantly surprised when marginally hardy plants come back to life again in the summer. Aucuba japonica (zone 6-10) has always bounced back for us – I only remember one winter that almost did it in. Harlequin glory bower (Clerodendrum trichotomum, zone 7-10) has been perfectly hardy too, not even dying back to the ground like the books say it should when it lives on the edge. Ours has had the protection of the North Garden wall (seen in the picture below recently repaired.) Salvia guaranitica (zone 7-10) has come back for us in the Display Garden herb bed for the last 3 years or so.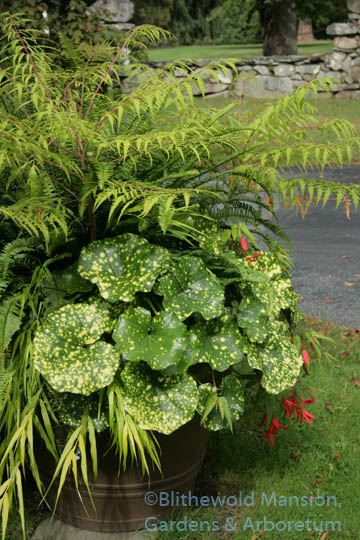 I'm tempted to use this map's confirmation of what our experience has been to finally call our zone a 7, and as an excuse to make the best of it and test the hardiness of a few more plants. At home I have successfully overwintered leopard plant (Farfugium japonicum 'Aureomaculata', zone 7-8) and am trying cast iron plant (Aspidistra eliator, zone 7-11) and Tetrapanax paperifer (zone 7-10) this year. Perhaps if we found just the right spot along a south facing wall, (I have such a spot at home…) a winter blooming Edgeworthia chrysantha (zone 8-10) could be coerced to return. But I suppose that would really be pushing it. (So to speak.)
Of course it bears remembering that zone hardiness isn't the only measure of a plant's ability to survive in our gardens – soil quality, light and moisture levels are at least as important, over winter and summer. Has your zone changed? Will you use the new information to take a chance on anything new?