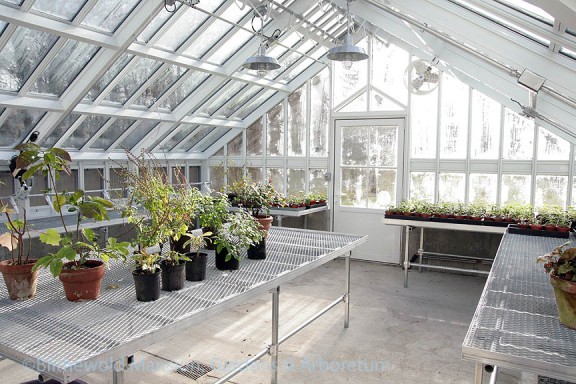 I can't quite believe we've come to the cusp of 2015 already. This year went by in such a flash! But always, by the time I put the brakes on after Christmas it feels like I lost a few days between … oh, June maybe … and now. Looking back at and organizing my pictures from the year and flipping through our calendar full of notes are the best ways to remind myself that it was a long year after all, full of wild weather, comings and goings, deepening friendships, successful experiments, and a gorgeous riot of color and activity in the gardens.
To mark the end of the year I usually run through a list of our favorite plants but thought I'd change it up and try to put the stretch back in time's elastic with a chronological photo recap instead. Another kind of top 14 for 2014…
Starting in March with an epic washout. (Click on the first photo and then find the arrow to move through a slide show. The picture above is of the new planthouse ready for 2015's seedlings and cuttings.)
Of course it's impossible to illustrate an entire year in only 14 photos. Not pictured: Every last one of Blithewold's amazing garden volunteers. What a fun and glorious season this was, working side by side with old friends and new. It was a year of fabulous events like Fairy Festival, the Members Picnic in June, the Gala in August, a tour of Robin Hollow Farm, the Garden Study Day with Noel Kingsbury, and The Garden Design Luncheon and flower arranging workshop with Debra Prinzing, just to name a very-few highlights. We wished Nick and Dan well as they both left the grounds crew this fall to pursue other opportunities. Meanwhile, Betsy was promoted from gardens intern to horticulturist, and we're thrilled to welcome Jason and another Dan to the grounds crew.
Evidently, no matter how fast it seemed to fly by, it's also impossible to describe a year in a short list without forgetting something major or losing some important details. But I hope this presents a good enough picture to inspire you to page back through this year's posts written by yours truly, Dan Christina, Margaret Whitehead, and Kelly Sobolewski. Have you been looking back at your year in the garden too? Does it feel like it flew by? What were some of the highlights?
Best wishes for a Happy New Year!