Tuesday, June 8, 2010
|
|
Allium 'Ambassador'
,
Allium 'Hair'
,
Allium albopilosum
,
Allium atropurpureum
,
Allium multibulbosum
,
Allium schubertii
,
Display Garden
,
fave rave
,
Nectaroscordum siculum
,
North Garden
,
ornamental onion
,
Rose Garden
,
what's blooming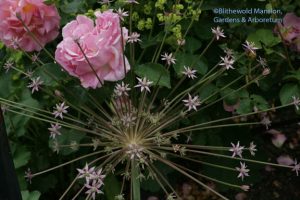 Since my last post was about sweet smelling blooms, it seems only fitting that  that this one should be about a plant at the other end of the fragrance spectrum. Don't get me wrong – I love the smell of onions especially when they're being sauteed in butter. But it's safe to say that ornamental onions are not grown for their fragrance. –Unless of course you take into consideration their value as a companion plant: the odor of them is said to repel aphids and other garden pests.
The number one reason we grow ornamental onions is because they're outstanding. Literally and figuratively. There's nothing like a star-burst on a stick to change the way you see the whole garden.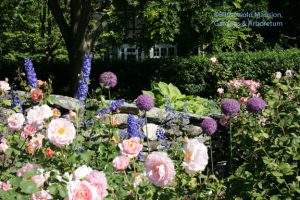 We're really pleased with the ones we chose for the Rose Garden this year. Allium schubertii (above) actually seems to alter the atmosphere within and around its enormous firecracker spray. I can't really explain, but everything near it (through it) seems slightly color shifted. Schubertii stands only a foot or so off the ground but has a large presence and we'll save the seed heads for Christmas decorations. The stately Allium 'Ambassador' stands at least 4′ tall and they have carried large deep purple globes for a good 4 weeks. We're also growing chives as companion plants in the Rose Garden and so far we haven't had any major aphid infestations there…
In the North Garden we chose a combination of alliums pictured in the Scheepers' catalog. Allium multibulbosum and A. atropurpureum really are gorgeous together. The white one (A. multibulbosum) opened first and is beginning now to fade to green. The dark wine color of A. atropurpureum is a perfect contrast – perfect with the rest of the colors in that garden too. Nectaroscordum siculum ssp. bulgaricum, formerly known as Allium bulgaricum, is one of my very faves even if it's not officially an allium anymore. It's on the subtle side – perhaps that's why its name was changed.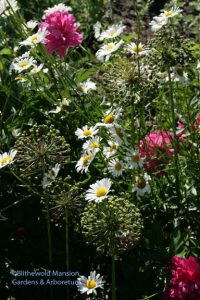 In the Display Garden, the Allium 'Globemaster' and 'Purple Sensation' have all faded but the seed heads are still quietly spectacular. A few years ago we planted a row of them within our peony row – which turned out to be a great idea because the peonies hide the alliums' one drawback, scrunky foliage. We planted Allium albopilosum (a.k.a A. christophii or Star of Persia) to peep over the edge of our stepped-down center bed. It's another firecracker and shimmers a metallic lavender.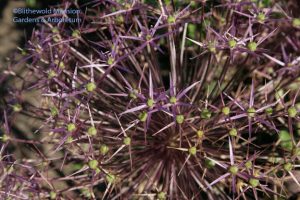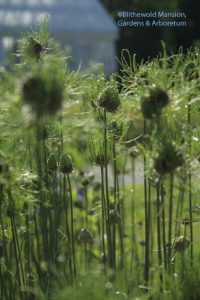 And finally here's an ornamental onion only a mother could love. Allium 'Hair' is as disheveled as I generally feel. But to my (mother-ish) eye, there are no bad 'Hair' days!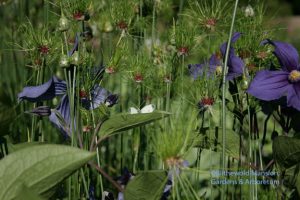 Do you grow ornamental onions? Which are your favorites?