Monday, July 31, 2017
|
|
Annuals
,
Display Garden
,
flower arranging
,
How
,
seeds
,
Slow Flowers
,
sustainable gardening
,
What-we-do
,
what's blooming
,
what's colorful
,
what's in bloom
,
When
Slow flowers are on the rise.  You may recall that we highlighted this trend a few years ago when the esteemed Debra Prinzing spoke at our Gardeners Day luncheon.  (For more on Debra and slow flowers click here.)  This trend is not entirely new as nothing ever truly is.  We know that Bessie Van Wickle McKee, Blithewold's original owner, also utilized local flowers from her own gardens.  We have records of dinner parties she hosted that include a list of the flowers that were on display on the table.  What a treat to be able to step out into one's own garden and gather a beautiful harvest of blooms!  Blithewold has had a cutting garden of one kind or another through the  years.  Currently, our cutting gardens are full of an assortment of annuals and perennials that we cut weekly for display in the house.  Each year, Gail and I try to find several new and interesting varieties of flowers to trial in the cutting gardens.  Here are a few examples of what is in flower for us right now:
Strawflower is a classic choice for flower arranging.  Its flowers are available in a variety of colors sure to please just about everyone.  I was captivated by the Apricot/Peach mix I saw on Johnny's website.   The flowers were a long time coming (or perhaps it seemed so because I was so excited for them), but they finally emerged last week.  The blooms have gorgeous color and a strange, paper-like quality.  Here they are looking elegant in our cutting garden.
Along with annuals, you will find perennials planted in strategic places throughout the cutting gardens.  Here is balloon flower in three soft, pretty colors.
Although some may find this next annual plant demanding in its need for seemingly constant deadheading, I can't help but love it all the same.  The bees love it too!  This scabiosa is called 'Fire King' for its brilliant red flowers that really pop.
Last summer I bought a pale, buttery yellow feverfew at the farmers market.  Although I could not find that exact variety, I did manage to locate seed for one called 'Magic Yellow'.  It has dense sprays of pale yellow flowers that bring me joy whenever I see them.
Another farmers market find that you can now see at Blithewold is Queen Anne's Lace 'Dara'.  This stunning beauty is related to that old roadside standard but boasts gorgeous deep red and purple color.  The only downside I have found so far is that the deer find it as attractive as I do.  A few well-placed stakes have helped keep their grazing to a minimum.
These next flowers are all variants on the lovely Zinnia 'Queen Lime Red' (the first image below).  Zinnia 'Queen Lime with Blush' is fairly new on the market and its flowers have a range of colors from almost entirely pale yellow to blush-pink with a lime center.  I'm enjoying each new incarnation that appears.  It may not be consistent, but it is so very pretty all the same.
I wish I had pictures of every arrangement that has been lovingly crafted by our team of volunteer flower arrangers in the house.  We are lucky to have this team of talented women.  In lieu of those pics, I will leave you with two of the arrangements Gail made this year.  Here is one from May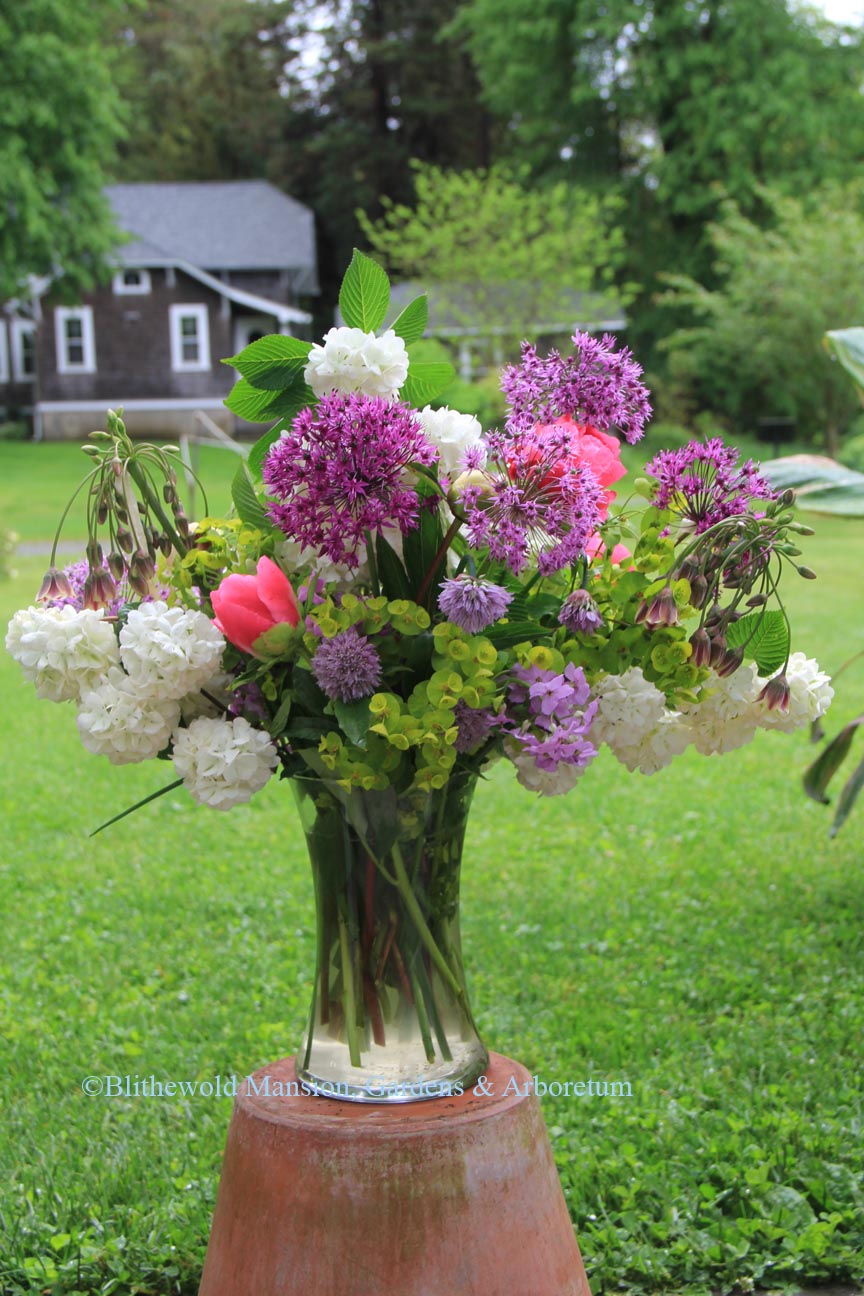 and one from just a few weeks ago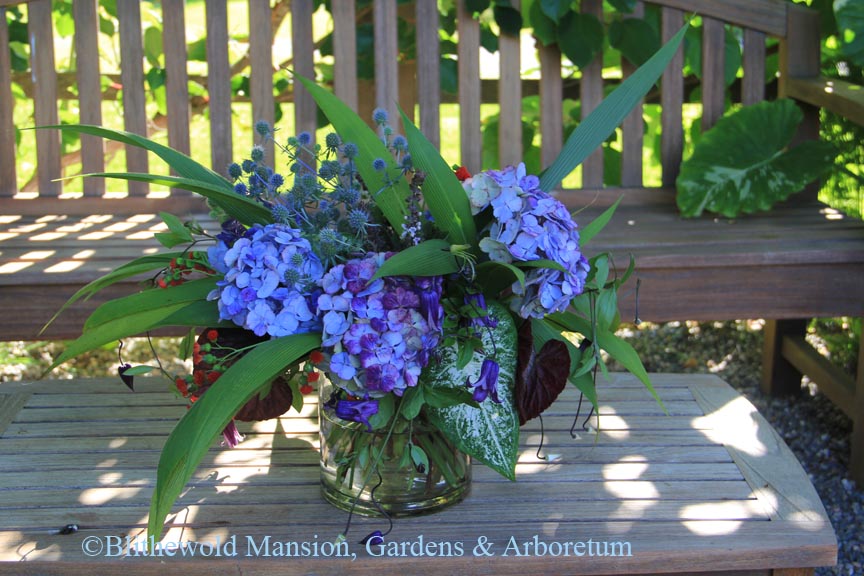 I hope I've inspired you to make an arrangement from your own garden.  I love having fresh flowers in my house and nothing is sweeter than when those flowers are ones I've grown myself.  Happy arranging!