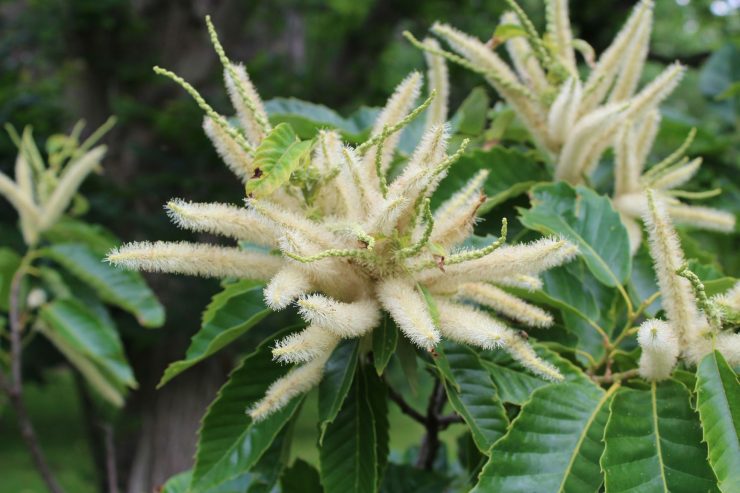 When you think of flowering trees, you probably picture dogwoods, magnolias, cherries and crabapples. Yes, these plants are very beautiful, common, and bloom throughout the various phases of spring. However, there are many other flowering trees, less prevalent but no less beautiful, just waiting to be admired as we enter the dog days of summer. The season of the flowering tree is still going strong.
Golden rain tree (Koelreutaria paniculata) caught my eye as I was biking last weekend, then again the following day at work. The yellow flowers have seemingly appeared out of nowhere, supplying a color not often found in flowering trees hardy in the northeast. This beauty can be found near the staff entrance to the mansion. And on the great lawn, another specimen tree is putting on a show. With an unpleasant fragrance even the weakest nose (mine) can pick up, the Chinese chestnut(Castanea mollissima) is exploding with up to 8'' panicle flowers. It almost looks as if an octopus was born at the end of each branch.
Japanese Stewartia (Stewartia pseudocamilia) is known for its exfoliating, multi-toned bark, but the tree also has a fantastic flower, which is blooming currently. 5 white petals are heavily overlapped with their edges frayed, and orange anthers give beautiful contrast.
The Chinese toon, or Chinese cedrela tree (Toona sinensis) is an exotic Asiatic species that has been on the grounds since before the Van Wickles bought the property, although none of these individuals remain. It is currently beginning to flower, with tiny white flowers emerging on long pendulous spikes. Fun side note, the young leaves have an onion smell to them when crushed.