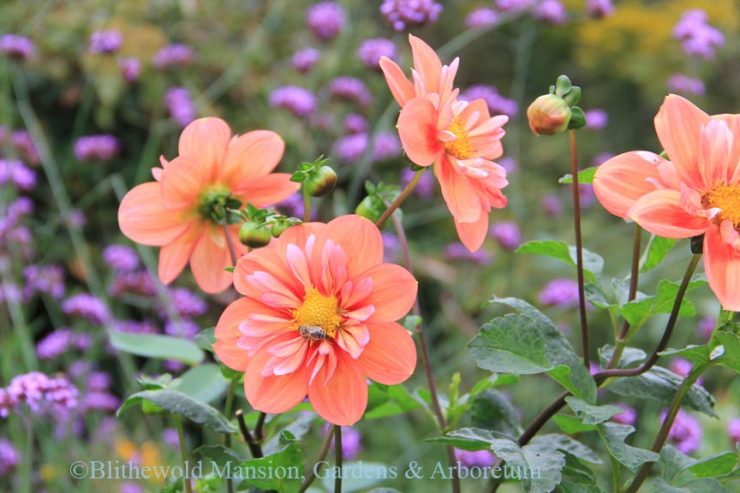 September is such a beautiful time in the garden!  Fellow gardeners will know the great joy that comes in September after months of planning, moving, trimming, weeding, etc.  This is the time when the garden looks as though it has become fully itself.  From the infancy of March and April to the height of summer beauty in June to the grand adulthood of September, the garden is now fully mature and magnificent.  Last year I ooohhhed and aahhhed over the successes of the Rose Garden.  This year it is the North Garden that is showing off more than the others.  Gail believes it could be the cooler weather we had this summer that is causing all of our lovely perennials and temperennials (non-hardy perennials) to continue to bloom much longer than we expected.  The weather is always that factor that we have absolutely zero control over each year.  We are thankful that this year was not the brutal, dry heat that we experienced in 2016.  Our gardens are thankful, too, and they are rewarding us with quite the show!
Though we are already preparing the greenhouses for our container collection to move back inside (starting October 1st), it is such a pleasure to walk through the gardens and still see an abundance of color everywhere we turn.  Here are a few more shots from the North Garden.
The stars of the Rose Garden range from our assortment of dahlias to roses to annuals.  Here are a few of my favorites in bloom right now.
A few of the roses continue to shine in the Rose Garden.  Rosa 'Lady Elsie May', for instance, has been blooming without a break since the end of June.  It is certainly a stunner.  You can see this beauty in the garden to the right of the Moon Gate.
Rosa 'Lillian Austin' is back for a second bloom.  I always find this particular one so entrancing.  It appears pink at first, but closer inspection reveals tones of peach and layer upon layer of lovely petals.
My other favorite part of this season is the heightened insect activity in the gardens.  The constant buzz around me often brings a smile to my face as I think of the pollinators happily visiting each flower.  They move fast as they float and fly, gathering their food for the day, but I managed to catch a few of them in action.
I hope that you are enjoying the season as much as I am.  Happy (almost!) Fall!