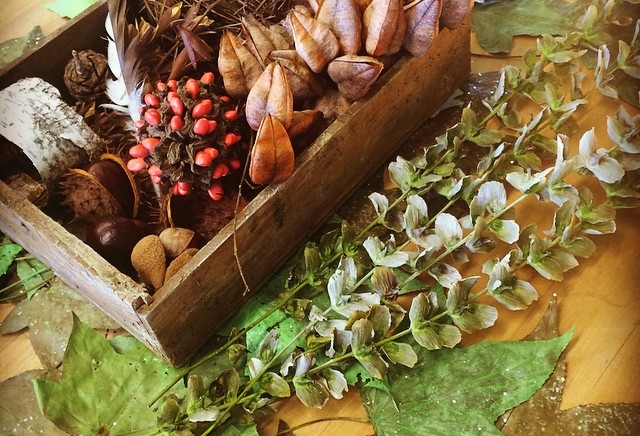 There's something very new and exciting going on this year in Blithewold's Visitor's Center during Christmas at Blithewold. Gail Read, Gardens Manager, Kris Green, Interpretive Horticulturist, and Betsy Ekholm, Horticulturist, have partnered with the garden volunteers to design a display to Celebrate Our Arboretum. Essentially, they are pulling different natural features from throughout the Grounds, preserving and decorating them, and then creating a "sparkly forest" in the Visitor's Center to greet all of our Christmas guests.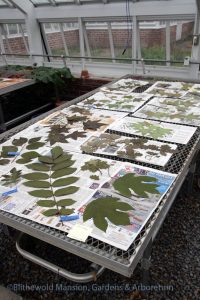 Kris, Gail, and some of the garden volunteers have been collecting and pressing leaves since early July to create this magical display. Blithewold's vast 33 acres provides a wide variety of leaves, branches, feathers, flowers, and other natural elements to choose from. Although the process of pressing takes time and patience, the results are beautifully preserved pieces of nature. Once these leaves and feathers and other natural elements are dried and pressed, Kris, Gail, and Betsy add a Christmas sparkle to them with the use of paint, glue, and glitter. You can see some examples of their handiwork in the image below. They are striving to, "enhance the beauty already found within nature."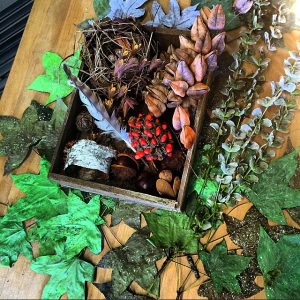 When asked what encouraged them to use objects found in nature to decorate the Visitor's Center, Gail answered that they were "inspired by the family's way of life and how they would embrace nature and their beautiful surroundings." The Van Wickle – McKee family is well known for incorporating natural elements into every aspect of their life; Bessie, for example, made sure that the Mansion was always filled with fresh flowers from the gardens. This love of nature spanned generations – from Bessie's mother, to Bessie, to Augustine, and most especially to Marjorie, who preserved the beauty and natural splendors of Blithewold until the end of her life. Gail, Kris, and Betsy's aim in their project is to incorporate the family's appreciation of Blithewold's natural beauty into the Visitor's Center Christmas display.
To give yourself a picture of what the Visitor's Center will look like, imagine a glittery, winter wonderland featuring all of the foraged findings from the gardens and grounds draped on the walls and ceiling. And scattered around will be a miniature tea party and other festive Christmas scenes. All of the botanical specimens (leaves, flowers, feathers, and so on) will be labeled with their common and scientific name, similar to the labeling throughout the grounds, which provides an educational feature to the display. In the coming weeks, Gail, Kris, and Betsy, with the help of the faithful garden volunteers, will begin constructing this sparkly winter scene. And don't worry, I'll be sure to share pictures of it once it's completed! It will be the first thing you see as you enter Christmas at Blithewold, setting the tone for another beautiful Christmas celebration at our beloved Blithewold!
To follow the continuing progress of Blithewold's holiday transformation, visit our Facebook page and Twitter. To see more photographs of Christmas at Blithewold, please stop by our Flickr and Pinterest!
Sincerely,
Kelly Sobolewski
Roger Williams University '16
Blithewold Communications and Web Design Intern
*Photo Credits to Gail Read, Kris Green, and Kelly Sobolewski