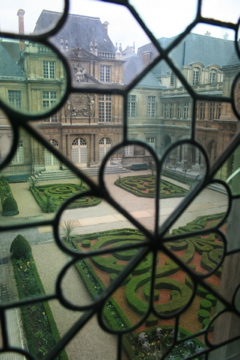 I'm back! Mostly. Pretty much. Almost. Paris was a fantastical and footsore dream and I'd love nothing better than to go back there right now – we're scheming about finding grants to attend the beekeeping school at Jardin du Luxembourg (me) and Le Cordon Bleu (he). And if I can't be in Paris, I'd love nothing better than to be checking on spring at Blithewold. But instead I'm home with a bug. (Perhaps intestinal distress was a gift from the woman who shared my seat on the plane – I'll have to put her on the ThankYou note list – I have a year, right?)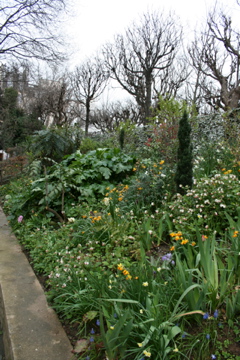 In Paris spring was on the march (ha! unintentional pun totally intended) with daffs already starting to go by. Here they're up and budded. Word is, Blithewold's 50,000 or so might be a titch earlier to bloom this year than last so make sure to stay tuned for my up to the minute updates and daff cam. 'Little Gem' planted by the Moon Gate are already out so the biggies starting with 'Ice Follies' shouldn't be too far behind.
In other news, Gail is famous! Check out this article by Linda Borg of the Providence Journal. A couple of amendments are necessary: Gail didn't say that all of the 600 tulips in the North Garden were eaten by deer – heaven forbid!! She said she hopes they won't be! (Precautions have been taken because the show must go on!) And to clarify – our resident wild honeybees reside in a horse chestnut stump near the greenhouse – they only come inside for visits, not to stay.
Please catch me up – I've been out of the loop! How is spring March-ing on for you?