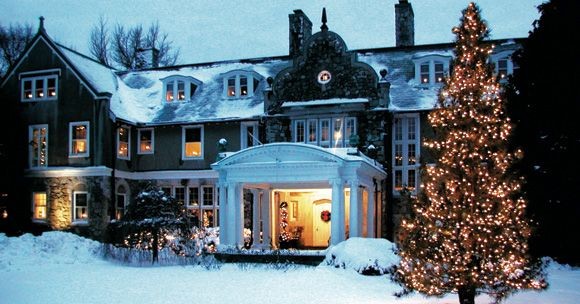 Although Blithewold is closing to the public this week, it is anything but quiet around the Mansion. We are now preparing to get the Mansion dressed up for Christmas! It is a bit hard to imagine a snowy winter in the midst of this crisp fall weather, but our decorating volunteers have been prepping and planning for this Christmas season all year. We want to give you an exclusive, sneak peek at what will be going on in the Mansion in the next few weeks while we are closed. Our cheerful volunteers will begin decorating next week and before we know it, Blithewold will be transformed into an amazing Christmas wonderland. And you are invited!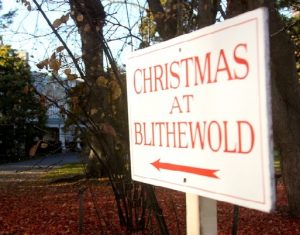 This year's theme, "You Are Invited," will celebrate the Van Wickle – McKee family's love of entertaining. Each room in the Mansion will interpret a festive occasion at Blithewold in the early 1900's.  One room will be set for tea, another for a games evening, a third for a garden party, and still another for a sailing party. The fantasy created in the exhibit area on the second floor will be "The Pleasure of Your Company…" featuring two of Bessie's recently conserved gowns that she might have worn for a special occasion in the 1890's. The scene will be set with drawing room furniture from the Collection, as well as paintings, silver, linens, china, and the family's antique Christmas crèche. Inspired by Blithewold's rich history coupled with their ingenuity, our volunteers will be creating a one-of-a-kind Christmas celebration throughout each room of the Mansion.
Our team of dedicated volunteers will conclude the transformation the week before Thanksgiving. The official beginning of Christmas at Blithewold is November 28th and the magic continues until January 2nd. Join us in celebrating this joyous season with fun and informal afternoon teas, Santa sing-alongs, festive music performances, and creative workshops for both children and adults. There's fun to be had for the whole family! Also, be sure not to miss our marshmallow-roasting-Christmas-carol-singing-strolling-through-the-twinkling-garden-paths event called Sparkle, which take place Friday nights in the Enclosed Garden and Greenhouse. To see the full list of events for the Christmas season, click here!
I will now be blogging weekly about everything Christmas here at Blithewold, so make sure to check in for the weekly updates! Also, be sure to come join us for any – or all – of the spectacular events listed above or to just visit the Mansion and Grounds; we are open daily Tuesday through Sunday 11am – 5pm.
To check out the progress of Blithewold's holiday transformation, visit our Facebook page and Twitter. To see more photographs of Christmas at Blithewold please stop by our Flickr and Pinterest!
Sincerely,
Kelly Sobolewski
Roger Williams University '16
Blithewold Communications and Web Design Intern