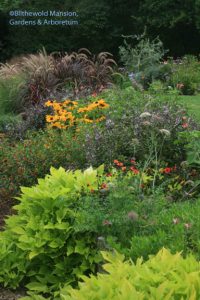 It's not my intention with this post to brag but we've still got a lot of color in the gardens. So many visitors seem surprised by that – and as shocked as if we were caught wearing white right about now. I've that heard the rules of fashion have changed and Gail and I are all for setting a new trend in post Labor Day garden fashion too. But as a home gardener on a budget tight on time and finances I know full well why my own garden looks sort of abandoned and pale right now. It's hard, even for me, to justify spending real money on annuals and tender perennials even though I have daily proof here at work that they're worth every shiny penny. The other difference for us in the Blithewold gardens, aside from having space to propagate a lot of the plants we want, is that the beat goes on – all year. This is what we do. At home, like so many other gardeners, I'm a little bit over it by now and taking a breather before fall clean-up.
Yesterday we got one of our favorite FAQs. Standing in the middle of the Display Garden in full bloom, a visitor asked, "When is the best time to see the gardens?"
Gail replied, "Every garden peaks at different times but — actually, right now!"  September is her favorite month in the gardens. I love it too because the colors are so intense, the angle of light is easier on the eyes, the pollinators are going nuts and the temperature is divine.
From the moment we start going through seed catalogs in January, we shoot to have color in the gardens into October. It all comes down to now and I don't think the Display Garden has ever looked prettier than it does this minute. I know I say that every year – but it's true! And again I don't mean to brag – I'm just desperate for you to visit – Blithewold or your local public garden – and see for yourself what's possible when a steady stream of energy is poured into this moment and beyond.
I hate to admit that I haven't had time lately to virtually visit all of my favorite gardens on the interwebs but would love to know that we don't have the only gardens in full bloom right now. Can any of you brag a little and pass along a link to your latest garden pics?