Tuesday, August 30, 2016
|
|
Annuals
,
dahlias
,
dahlias
,
garden design
,
garden design
,
How, When, What-we-do
,
Moongate bed
,
perennials
,
perennials
,
projects
,
Rose Garden
,
Rose Garden
,
what's blooming
,
what's colorful
,
what's in bloom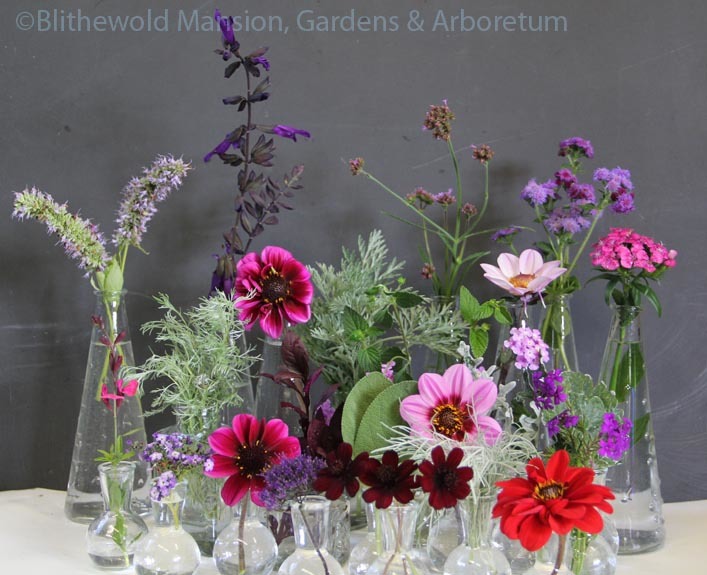 Every once in a while, the plans we make for a garden turn out just as we hoped.  That perfection doesn't happen quite as often as I would like, but the unpredictable factor in a garden is what keeps things interesting and keeps us on our toes.  Currently, the Rose Garden looks just as we planned for it to look.  There are swaths of lavender colored flowers of various heights with pops of pink and red and swirls of silver throughout.  It's peaceful and inviting.  It is as we planned.  Truly, we are rather amazed!  This is not to say that we don't know what we are doing, but that so often something happens to throw a wrench in the plans.  Sometimes it's the deer eating one of the key color plants.  Sometimes the plants become much taller and wider than we anticipated and look completely out of scale.  Sometimes seedlings are mixed up or accidentally mislabeled so we have a plant (or two or three) that sticks out like a sore thumb.  This year, even the plants we were unsure of for color and scale are just the right size.  Currently.  This could change over the next month, so I will update you on all my hopes for perfection.
For lavender color, we chose Purple Cedros Island Verbena (Verbena lilacina 'De la Mina'), Canary Island Lavender (Lavandula canariensis), Purple Trailing Lantana (Lantana montevidensis 'Trailing Lavender'), Anise Hyssop (Agastache 'Blue Fortune'), Floss Flower (Ageratum housonianum 'Red Sea'), Blue throatwort (Trachelium caeruleum 'Hamer Pandora'), Heliotrope (Heliotrope arborescens), and Salvia splendens 'Brazilian Purple'.
The bright pops of pink and red are provided by Dianthus barbatus 'Jolt Pink', Dahlia 'Happy Single Princess',  Chocolate Cosmos (Cosmos atrosanguineus 'Chocamocha'), Dahlia 'Dracula', and Dahlia 'Bishop of Llandaff'.
The silver is Maui Wormwood (Artemesia mauiensis), Silver Mound Wormwood (Artemesia 'Silver Mound'), Powis Castle Wormwood (Artemesia 'Powis Castle') and two Dusty Millers (Senecio cineraria 'Silver Lace' and Senecio cineraria 'New Look').
I hope that when you visit Blithewold and walk through the visitor's center, you are embraced by the vision we had for this garden.  I hope it brings you peace and inspiration!  Next year will be a new design, a different adventure.  You will just have to come back again to see if our next vision turns out this well.