Friday, March 30, 2012
|
|
daff cam
,
Daffodil Days
,
Daffodils
,
Daffodils
,
North Garden
,
North Garden
,
open for the season
,
projects
,
Spring
,
what's blooming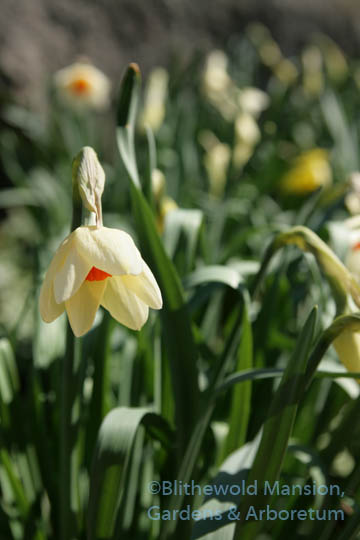 Everybody has a different cue for letting ourselves admit that it's finally spring. For some of us (me), spring officially begins when we sow the sweet peas (back around President's Day). Others might notice spring for the first time when the forsythia blooms its head off, or when we have that first t-shirt-weather day or when the calendar says it's so.
For some, it's all about daffodils and Daffodil Days here at Blithewold. Well, a lot of them (dare I say "most"?) are open and we're opening for the season starting Sunday, so no one can deny that it's really truly spring now. The daffodils should continue to be in peak into next week. They love these cooler temperatures.
We've been hustling to get ready and have had an extra spring in our step because of opening two weeks ahead of schedule to better match our timing with Nature's. We've fluffed and we've puffed and from here on in it's a work in progress. Like any real garden, ours are in perennial transition and change by the day. Every year we focus attention on a particular garden: this year the North Garden will look quite different from years past. We're adjusting to a new design that should make the space more welcoming to visitors, and we'll be in there planting and rearranging every chance we get.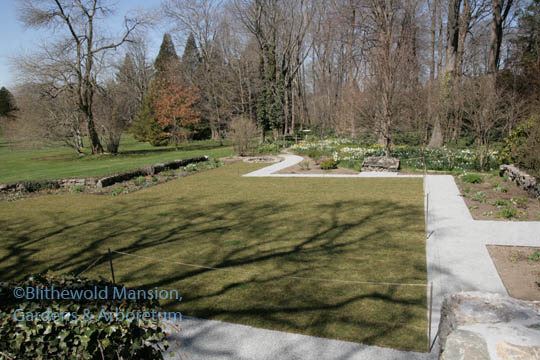 Even if you come just to see the daffodils, don't miss the Rock Garden. This is the start of its favorite season. And you can't miss the Rose Garden unless you have your eyes closed coming out of the Visitor's Center. Open 'em up. That garden will just keep looking more and more glorious as days go by.
So stick around. Visit as often as you possibly can and celebrate a whole new season by enjoying every bloom of it.