Friday, May 27, 2011
|
|
Clematis
,
early summer
,
iris
,
late spring
,
red-veined enkianthus
,
Spring
,
Syringa meyeri 'Palibin'
,
weather
,
what's blooming
,
what's fragrant
In New England we're allowed call it summer whenever the switch has been flicked from sweater weather to sweaty weather (starting this past Wednesday). As a Rhode Islander, I can call it summer on Memorial Day weekend because lifeguards go back on duty. And as a gardener, I think it's safe to declare it summer as soon as the scent of beach roses (Rosa rugosa – or as my grandmother called them, Rosie b'grosie) mingled with salty ocean breeze makes me swoon; when the irises start waving their flags; when the oxeye daisies open fresh as … well… daisies; and when we've finally moved the tomatoes out to harden off.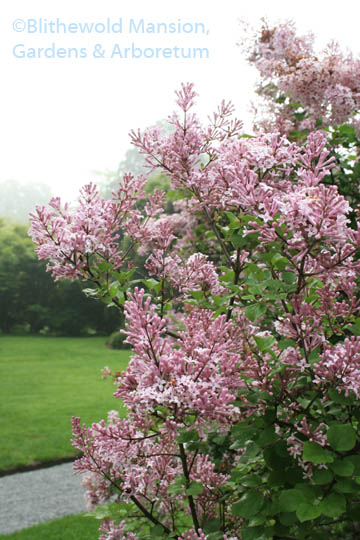 But of course I'm not quite ready to let go of spring and luckily I don't have to. If there are still lilacs in bloom, it's still spring. Syringa pubescens began blooming a good week after the everyday S. vulgaris. Its individual flowers are much smaller and pretty-in-pinker but the scent packs just as heavy a knock-out blow. Syringa meyeri 'Palibin' (right) is another late bloomer across the aisle from our pubescent lilac (at the entrance to the North Garden). I have to admit that until I looked at the tag today I thought was just another cultivar of the other. Palibin's lilac blooms a titch later – if its blooms today are anything to go by (they're still coming whereas the pubescent lilac's are going by) – and a smidge bluer.
Red-veined enkianthus (Enkianthus campanulatus) is another that says spring to me – even though it smells as musty as a root cellar in winter. But any flower as delicately drawn as these, on any plant with as handsome a habit will be forgiven for being fragrance-challenged.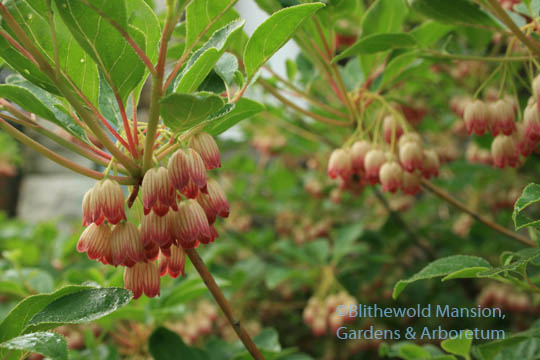 I freely associate Blue star (Amsonia tabernaemontana) with spring (late spring, that is). It's pictured (below left) with Clematis recta 'Purpurea' and although my mind wants to lump all clematis into a summer category, I've been reminded this week that a few belong to spring.
Foggy mornings are a spring thing around here but these sweltering afternoons are so very summery. In any case, whether it's spring or summer, the truth is, all gardeners are on the move. We're racing against time to get the plants in the ground before the real heat of summer hits. But I was also reminded – and I'll pass it along here – that it's very important to slow down and watch your step – to try not to tread upon fledglings (a spring thing) or trip on bamboo shoots (summer thing).
Are you calling it summer or still enjoying spring?