Friday, September 23, 2016
|
|
Cutting Garden
,
cutting garden
,
dahlias
,
dahlias
,
foliage
,
garden design
,
garden design
,
How, When, What-we-do
,
North Garden
,
North Garden
,
Rose Garden
,
Rose Garden
,
what's blooming
,
what's colorful
,
what's in bloom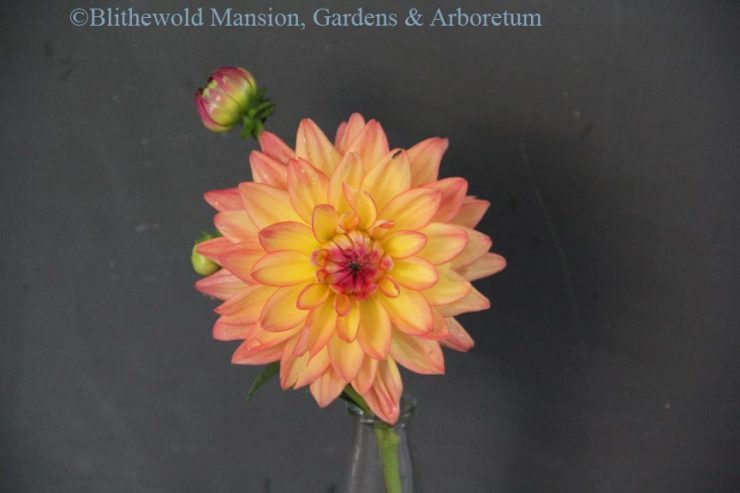 Happy autumn!  The light shifts and the nights get cooler, but there is still so much color here in the gardens.  A lot of that color comes from dahlias and sages (Salvia spp.), which are both reliable late bloomers.  I hope to highlight the sages for you soon, but today belongs to dahlias.  There are so many lovely cultivars in existence that Gail and I have to narrow our list of qualifications down to get only the ones we really want and need for the gardens.  The 'Happy Single' series of dahlias is a particularly lovely group.  They are a single-flowered variety, they tend to top off at about 3 ft in height (just perfect for the middle of the garden beds), and they have distinctive dark foliage that provides a nice contrast in the garden.  All these qualities make them winners in our book.  Here are a few of the ones you will see around Blithewold
Both 'Happy Single First Love' and 'Happy Single Party' are found in the North Garden (an especially appropriate place for them as that is where wedding ceremonies are held).  'Happy Single Wink' is one of the first dahlias to greet you as you enter Blithewold, shining its happy face in the Rose Garden.  Here is the rest of the supporting cast of dahlias in the Rose Garden
Our color theme for the Rose Garden this year is lavender with pops of red and pink.  You may notice that there is one dahlia in particular that seems not to belong in the above grouping.  It is a mystery to us how this dahlia appeared in both the Rose Garden and the North Garden.  We are pretty certain that it was mislabeled.  It now seems that this mystery is actually Dahlia 'Happy Single Date', which must have been sent as a mistake.  But we make the best of it!  It's a pretty little plant even if it's not the color we were hoping.
In the North Garden our dahlias are mainly in the yellow and peach color zone.
Here, the mystery that is 'Happy Single Date' does not look quite so out of place.  Instead it is Dahlia 'Willie Willie' that seems to be the one dahlia that didn't get the color memo.  It is such an intriguing dahlia that I am not at all upset that it found its way into the North Garden.  Here it is all on its own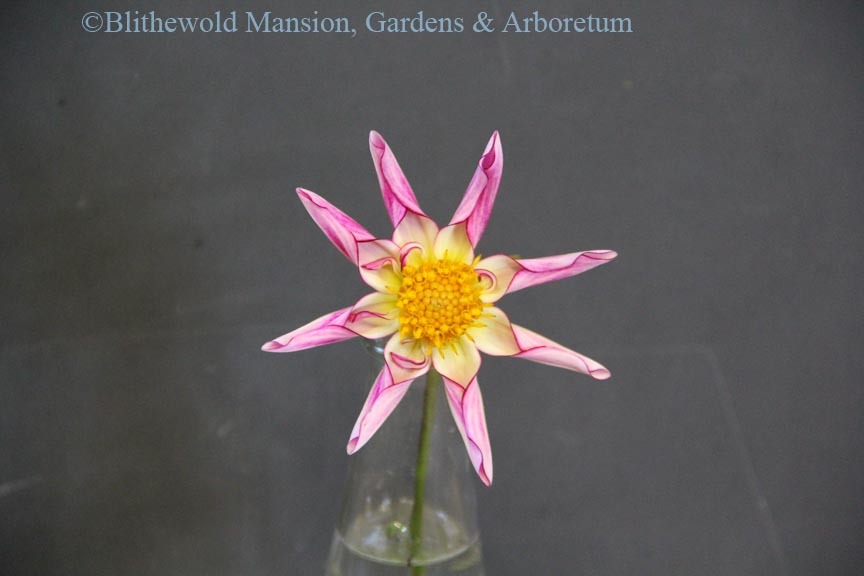 How could I be upset about a flower that looks like this?  It is definitely a stunner.  Here are a few more of our favorites blooming in the gardens
Every year I have a new favorite dahlia.  This year the winner would probably be this next one.
How can you compete with the colors of the petals and sheer size of this beauty?  I'm sure I'll tell you next year when I have a new favorite!  I hope you have enjoyed these dahlias and will come to see them in person soon.  They really are breathtaking.  As always, Happy Gardening!