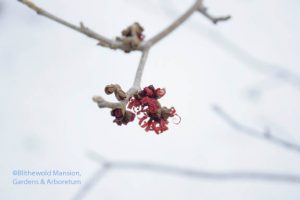 I have always gone to nurseries armed with a carefully researched wish list but seem to have trouble sticking to it. Nursery owners have it figured out and I know I'm not the only person who absolutely can't resist the perfect whatever-it-might-be in full glorious bloom. Whatever I went to the nursery for in the first place is inevitably simply leafy and sort of sad in comparison and I can never remember why I even wanted it.
Well, I remember now: if only I had a witch hazel to look at from my kitchen window, or a Japanese giant pussy willow. I wouldn't be nearly so impatient for February to end. I'm glad we're able to stick to our guns here and plant the things that fill out the year – if only to remind me to be a little less impulsive.
Hamamelis x intermedia 'Diane' can reach about 12′ tall and wide and I didn't detect any fragrance – but it is a cold and windy day… It started opening around Valentine's Day and by the looks of some of the buds, it will go on for a bit longer. I know I've already gone on and on in previous posts about the Tim Burton-esque flowers and clearly I can't stop taking their picture either.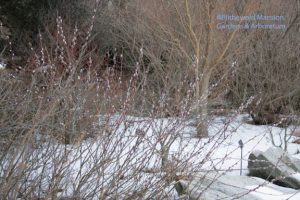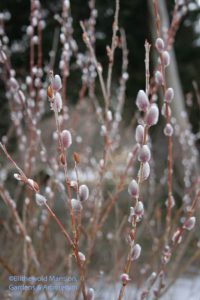 You might be sick of me raving about Salix chaenomeloides 'Mt. Aso' too but if it wasn't for a comment on my last post, I'd have forgotten all about it this year. That wouldn't happen if it lived in my garden. Ours is already about 8′ around and 4′ or so tall. In my garden I would have to coppice it (willows are perfect candidates for cutting back hard) – and probably still give it more space than I have.
Have you talked yourself out of either of these – or any other winter bloomer – by the time you're planting in the spring?