Friday, February 17, 2012
|
|
Annuals
,
Display Garden
,
early spring
,
garden clean-up
,
How, When, What-we-do
,
seed swap
,
seeds
,
vole damage
,
winter
Going by the calendar it seems too soon to be out in the garden tidying up but it's awfully hard to resist when the weather is warm, the birds are singing, and all signs point to spring. Yesterday was just about the first chance Gail and I have had to get reacquainted with the Display Garden. We got a jump on cutting back everything that was starting to self-destruct: the grasses were beginning to blow themselves around the property; teasel had fallen over like drunken giants and most of the salvias looked like someone had sat on them. It couldn't have been the snow… Verbena bonariensis and sea holly aren't handsome anymore and the butterfly weed was mostly flattened too so we cut all of those down. Any pretty seedheads still standing we left for later.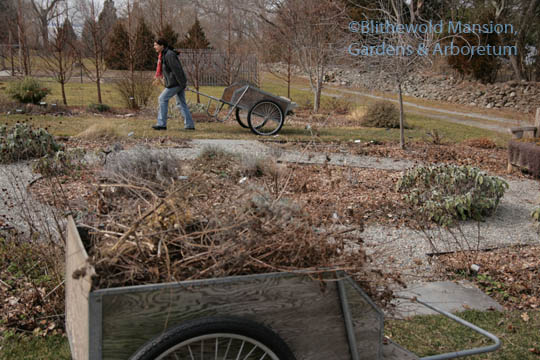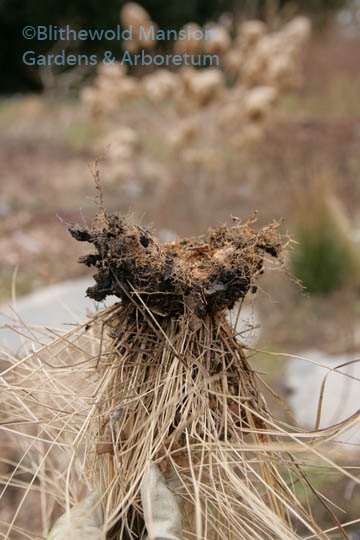 After getting a good look at the garden we have a better idea of what probably survived the winter and what we'll need to reorder – perfect timing because we'll put our first plant orders in next week. I had decided last summer that I could never garden again without Muhlenbergia capillaris and looked forward to knowing if it was going to prove hardy here. Unfortunately the voles couldn't live without it either. I'm sure that it would have survived the winter if it hadn't been eaten to nubs so it's going back on the wishlist.
We also couldn't resist going back inside for our annual seed swap lunch with some great friends, one of whom is a self-proclaimed "propagating fool" who can't pass a plant that has gone to seed without collecting pocketfuls. The swap is always just the excuse we need to go through our seed cupboard. Gail found a few forgotten unsown treasures and lots of saved keepers. The closer we come to spring, the readier we are to have at it.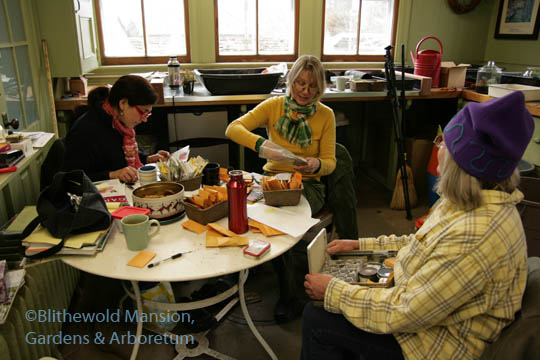 You too? Have you gotten reacquainted with your garden yet? Have you participated in a seed swap? (Did anyone bring a tin of cookies?)