Friday, March 6, 2015
|
|
container plants
,
greenhouse
,
seedlings
,
seeds
,
sensory stimulation
,
snow in March
,
spring hopes and fears
,
sweet peas
,
weather
,
what's blooming
,
what's colorful
,
winter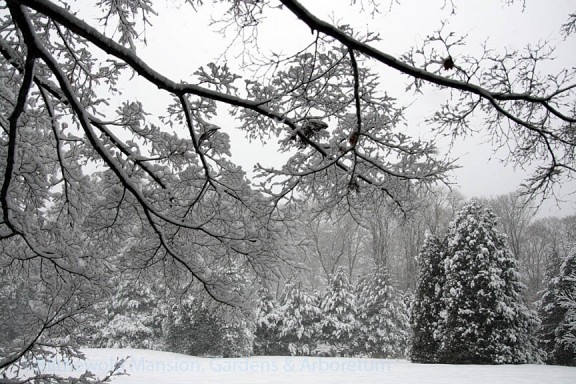 I'm getting awfully tired of posting snow pictures (are you sick of seeing them?) but every time we have gotten dumped on, it has been too pretty not to get the camera out. This last snowfall came without wind (here) and stuck like cotton to every twig. lovely. But enough is enough. We're hoping, like we did the last time snow fell, that that was the last of it. Next week's forecast is calling for "near normal" temperatures — after a possible dusting this weekend — and mostly clear skies. Huzzah!
But we gardeners are cynical optimists. Gail's, Betsy's, and my hopes are clouded by fretting about a late and muddy spring. We're not too worried about the daffodils. They're probably up at least a little bit even under the snow and will surely make up for lost time as soon as they see the sky again. We are more worried about how soon we'll be able to get into the gardens to divide and transplant perennials. Our plant orders will start coming in soon and they'll need homes too — mostly in vacancies we have yet to create. But given how much snow has to melt, and how saturated the soil will be even if it isn't a rainy spring, we can expect it to take longer than usual before the soil is workable.
So we're feeling a little stuck and are trying to make the best of it. Volunteers have been braving the roads to come in to sow seedlings and groom plants — thanks to them the greenhouse has never looked prettier or more tidy. The first batch of sweet peas is up and before too long, calendula and dianthus seedlings (pictured below) among others, will need to be transplanted. I'm sure we'll be grateful to be able give them our undivided attention when that time comes. And, in an inside-out sort of way, we might be grateful for the extra time inside if we have come up with any backup plans for the gardens.
You might not hear from me next week because I'll be looking for spring at the Boston Flower & Garden Show. You too? I'm on the schedule to speak Friday, the 13th at 1:30 and hope to see you there!
Are you worried about your spring projects getting stuck in the mud too? Do you have a backup plan?