Friday, April 13, 2018
|
|
container plants
,
Daffodils
,
greenhouse
,
Spring
,
weather
,
what's blooming
,
what's colorful
,
what's in bloom
,
winter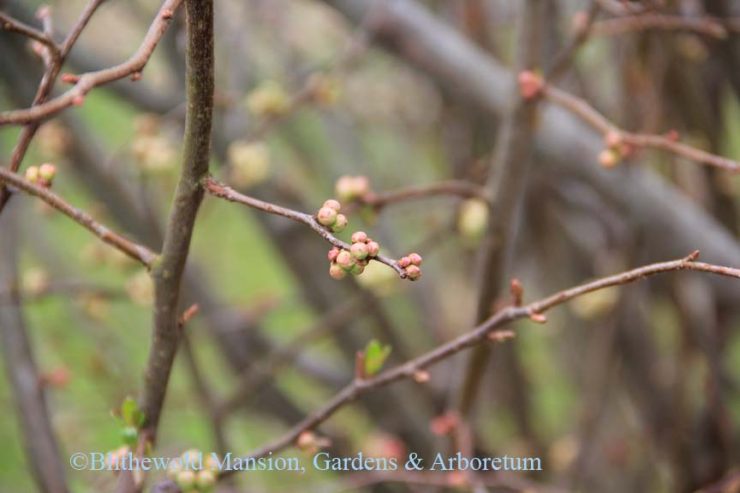 Considering the weather we have endured the past two weeks, I would say my previous post was overconfident. Spring was not here yet. I was feeling hopeful and buoyed by the sunshine. It was naive of me to believe that winter was truly over. It might have been over according to our cruel calendar, (the Spring Equinox in New England is nothing more than a statement of the length of daylight hours – it is not a herald of suddenly warmer weather), but not according to the snow that was falling. A week ago today we had snow – not simply flurries in the air but a full two inches of heavy snow. It melted by the end of the day, but a sense of defeat permeated the air after that. I am here to say, let us not be defeated by Mother Nature's jokes. Spring is coming. Slowly, but it's coming.
I am tempted to post some pictures of the snow here, but I will not be so unkind. Flowers. We need flowers. So here they are!
The daffodils in the Bosquet are just beginning to open up their sweet faces. Everyday I notice a few more open flowers. It is a slow start. The night temperatures are rising and we have had some lovely sunny days this week. Soon enough there will be too many blooms to count. For now I satisfy my daffodil desires with the few 'Ice Follies' that have been brave enough to open along with 'Rapture', a daffodil that a couple weeks ago decided "Toss it! I'm blooming now!" I don't recall 'Rapture' blooming this early last year, but I appreciate this diminutive daffodil for its spunk. May we all be so resilient.
In my search for flowers to show you, I noticed that the Autumn Flowering Cherry trees in the Rose Garden are just starting to bloom. Near the end of a few disparate branches is a single flower. The picture of hope. Gail and I got so excited to see this scattering of flowers that we started laughing at ourselves and the need we have to seize upon any small sign that spring really is coming after all.
Despite the slow start outside, we've been busy growing in the greenhouse. Alyssum and Violas are in bloom and waiting for their spot in the gardens. We purchased a few new daffodils for our display containers. They were a welcome sight in the greenhouse where they awaited their chance to be potted and placed for all to see.
Before the snow started falling last Friday, we planted the large containers in the Rose Garden with hyacinths, daffodils, grape hyacinths, and pansies. Here is one of the pots this week, looking completely unharmed by the snow.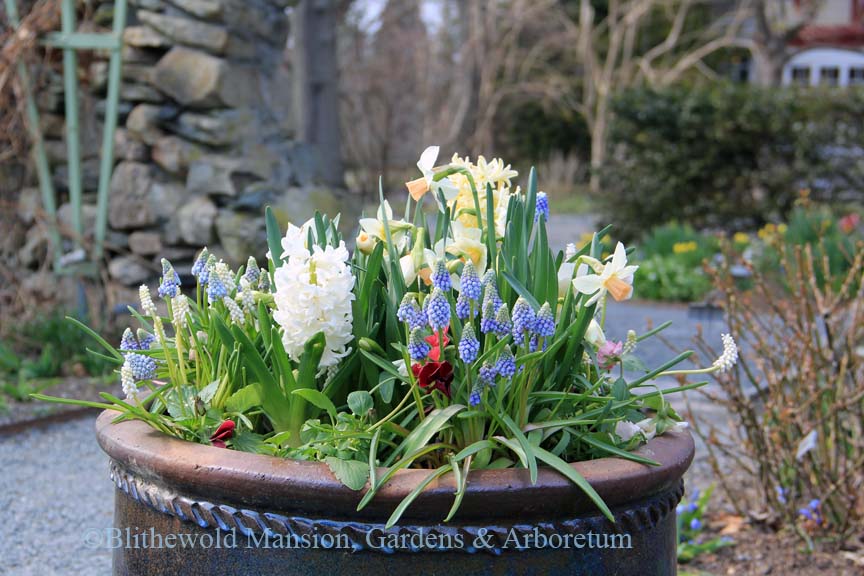 As we look forward to more blooms, I hope you find your way to Blithewold. One of my favorite things about spring is watching the blooms open. It is the watching and waiting time and I feel that it makes the final explosion of flowers that much sweeter. We hope to see you here in the coming weeks to experience spring in all its long-awaited glory!
Here's a final picture for you to take with you – a tiny praying mantis perched on one of our violas (Viola 'Sorbet Coconut Swirl).