Friday, February 10, 2012
|
|
garden design
,
garden design
,
How, When, What-we-do
,
North Garden
,
North Garden
,
potting bench
,
preservation
,
projects
,
tools
,
winter projects
A little more than a month ago in a post about potting bench perfection I mentioned that our potting bench was in a sorry state and that the windows above it were drafty heat-leakers. No longer true! Gail and I are thrilled to be cozy behind a bank of new storm windows and can't get over the beauty of the shiny new stainless-steel bench topper that one of our favorite carpenters installed in about 2 seconds yesterday.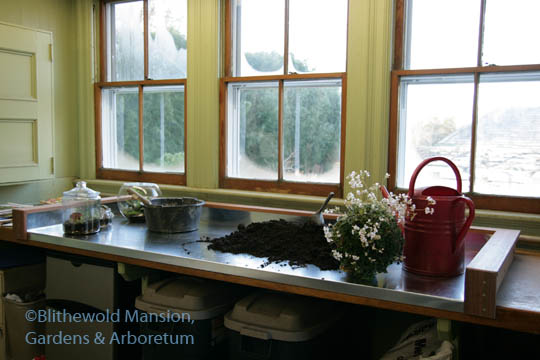 Winter is definitely the best time for dreaming about projects and for being able to follow through with minimal disruption to the day to day workings, or the visitors' enjoyment of the property. It was easy for us to clear the bench because we're more focused on putting our orders together right now than potting up.
And because there are fewer visitors on the property this time of year, we can get to some changes outside too. The North Garden wall repair was completed in record time and has provided us (the gardens and grounds staff) with an excellent opportunity to ask the gardens and grounds committee to consider a few of our ideas. We'd like to re-size some of the beds, improve the soil, add irrigation, and lay a path that will tie the floating fountain, which at one time had been the punctuation at the end of a bowling green, back to the garden. With spring clearly closer than it usually is this time of year, it looks like this next project might get rolling soon. We hope all of Blithewold's members, visitors, and brides think it's an improvement.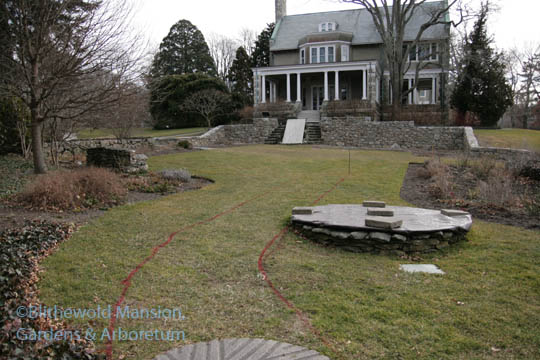 Are you using this time to make some improvements to home and garden too?