Friday, August 29, 2014
|
|
Annuals
,
Clerodendrum trichotomum
,
F.A.Q.
,
fall
,
harlequin glorybower
,
Ipomoea lobata
,
Lespedeza thunbergii 'Samindare'
,
Mina lobata
,
perennials
,
shrubs
,
the bees
,
trees
,
weather
,
what's blooming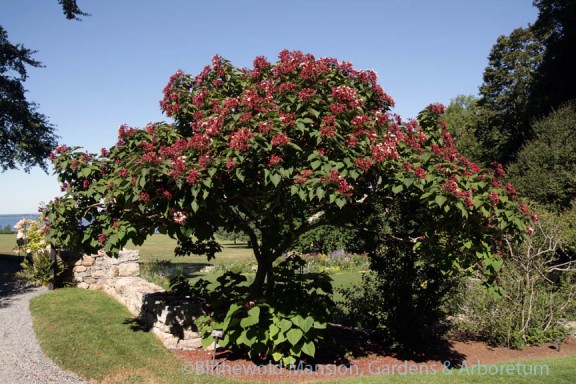 Change is in the air. Gail is always the first to point out how the light has shifted — it is well into its golden slide to the south now. So pretty. And although this week we have been hit with the most summer-like weather of the summer so far — intensely hot and sultry (did we finally break 90°?) — the nights and mornings have had a fall-like crispness. The ragweed must be blooming if marathon sneezefests are any indication and some of us have been felled by a wicked summer cold on top of that. Change is in the air. — Not to mention that kids have gone back to school and this long weekend signals the unofficial end of summer and pricey beach parking.
The gardens are changing too. They're reaching their full height now and, thanks to the shift in the light and those cool mornings, the colors are electric. And so many more flowers are arriving fashionably late that this party is really just getting started. Pictured below, the Franklinia alatamaha (left) has been blooming all month and will continue through fall, and has a bee — or three — in every flower. Boltonia asteroides 'Nally's Lime Dot' (left) has just topped out at a good five or six feet and started to bloom.
Everyone is asking about a vine blooming in the Rose Garden and Cutting Garden. Mina lobata (now known as Ipomoea lobata) or Spanish flag (below left) is an annual vine that loves the heat and attracts bickering hummingbirds. We usually grow it from seed but found starts at Peckham's Greenhouse this year. Its ombré color scheme is all the rage on Pinterest… My personal favorite late-summer bloomer is bush clover, Lespedeza thunbergii 'Samidare' shown below right. I don't even like purple but I love this purple and so do the bees. Bush clover wants a good six to eight feet around to twirl its skirts, and to be pruned just about to the ground in early spring. Otherwise you'll have a monster in your garden.
Right now the most popular and asked about plant at Blithewold is the Harlequin glorybower (Clerodendrum trichotomum) at the corner of the North Garden (pictured at the top of this post). It started blooming this month with a sinus-filling sweetness (lily crossed with lilac?) and is now displaying the bright red bracts that will frame unreal turquoise berries this fall. This plant is listed as hardy to Zone 7 — we're right on the edge of that here. It is supposed to die back to the ground where marginally hardy, but ours never has even though it's in a pretty exposed and winter-windy spot. The stone wall at its feet might get the credit for giving it just the protection it needs. I also think it benefits from good air circulation in the summer. My own, packed into a tight bed, withered from some sort of fungal gunge after a couple of years. No matter: it produced plenty of suckers and seedlings and since it blooms on new wood, I got a do-over. Or ten.
Any fashionably late bloomers in your garden? Are you enjoying the transition?