Friday, March 30, 2018
|
|
bulbs
,
Daffodils
,
How
,
sensory stimulation
,
Spring
,
trees
,
What-we-do
,
what's blooming
,
what's colorful
,
what's in bloom
,
When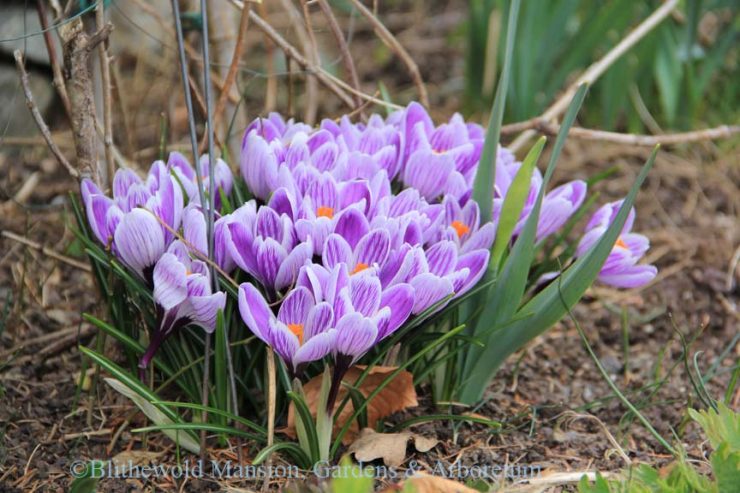 Could it be?  Is spring finally here at long last?  Yes!  In the past week I have seen honey bees gathering food from spring flowers – I have seen spring flowers! Iris, primrose, daffodils, snowdrops, squill, hellebores.  The first spring blooms are out! What a treat after a heartbreaking March with storms every week and cold, cold weather day after day. Gail, Joe, and I spent our first full week outdoors after a long winter spent (mainly) working in the greenhouses and making plans for the year. It was glorious to breathe so much fresh air and spend hours cleaning out the gardens with the sun on our faces. I feel both exhausted and refreshed! Our hearty garden volunteers joined us outside as well and were a big help in cleaning up all the broken branches and spent foliage from last season. (It's a little early to clean up the garden at home, but we have to get a head start here.)
The crocus pictured at the top is a variety called 'King of the Striped'.  Like other crocus, these are opportunistic blooms that open with the sun and close with the clouds.  Here is that same crocus a day later in the rain.
One of my favorite early spring blooms is a snowdrop called 'Flore Pleno'. We have several clumps of this darling flower in the dry shade garden right outside the moongate. Snowdrops are wonderfully cheerful blooms. They are among the first to trumpet the arrival of spring and wake us all up out of our winter doldrums. 'Flore Pleno' differs from the common snowdrop in its multiple green petals etched in white. You may not notice walking by, but if you take a closer glance at these blooms they truly are stunning. The following pics illustrate the different views: one from above the flowers and one with a flower facing up to the camera.
Spring bulbs aren't the only ones starting to show off right now, the tree buds are also gearing up for a beautiful spring. Here are the buds of Cornelian Cherry, Quince, Star Magnolia, and Spirea.
I feel the hope that spring breathes into us really beginning to make a difference. People are smiling more (and not the sad sarcastic smiles mocking another snowstorm). Winter is an important time of year to rest from the busy growing season, but I for one am so ready for spring. Since I have teased you with all these lovely blooms you may think the thousands of daffodils in the Bosquet are open too.  I am here to tell you that they are not quite there. Soon! Very soon. Each year we watch and wait for this spectacular show to begin, and each year it takes its time and doesn't really start until the second week of April. Patience.  Here's a pic of some daffodils from this morning.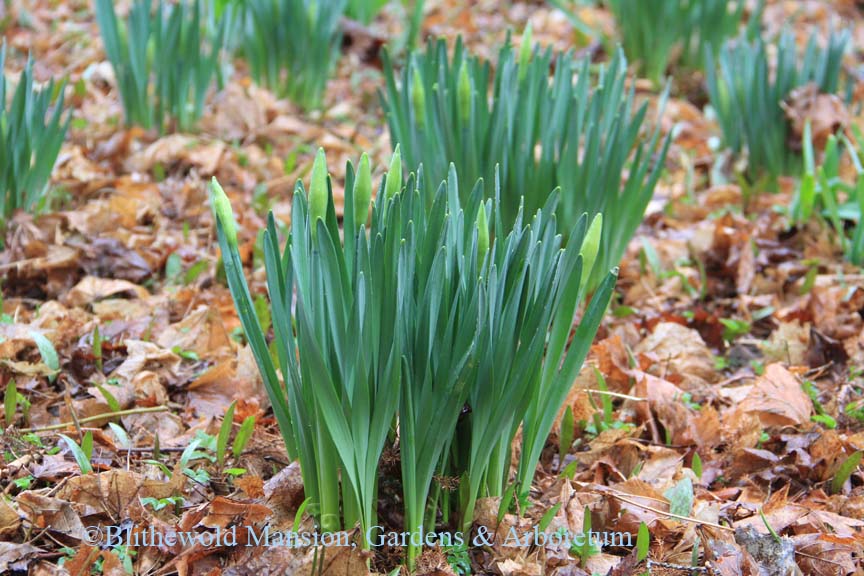 See? They are poised and budded, but not quite ready to go. We look forward to the near future when the Bosquet will be a sea of white and yellow blooms. Until then, let's enjoy all the other lovely blooms of spring.  Each day has its own beauty.
*Blithewold grounds are open year round, but our official opening day is April 7th.
P.S. You may notice a new look to Blithewold next time you visit us.  There has been a good deal of construction going on here this winter.  We appreciate your patience with us as we work out the details of the changes. The Carriage House has been converted into a new Visitors Center. The Rose Garden no longer contains the small building that housed the old Visitors Center, so in its place there is a new garden area we will be planting. Growing often involves change, but we are hopeful these changes will be beautiful. Thank you in advance for your patience!