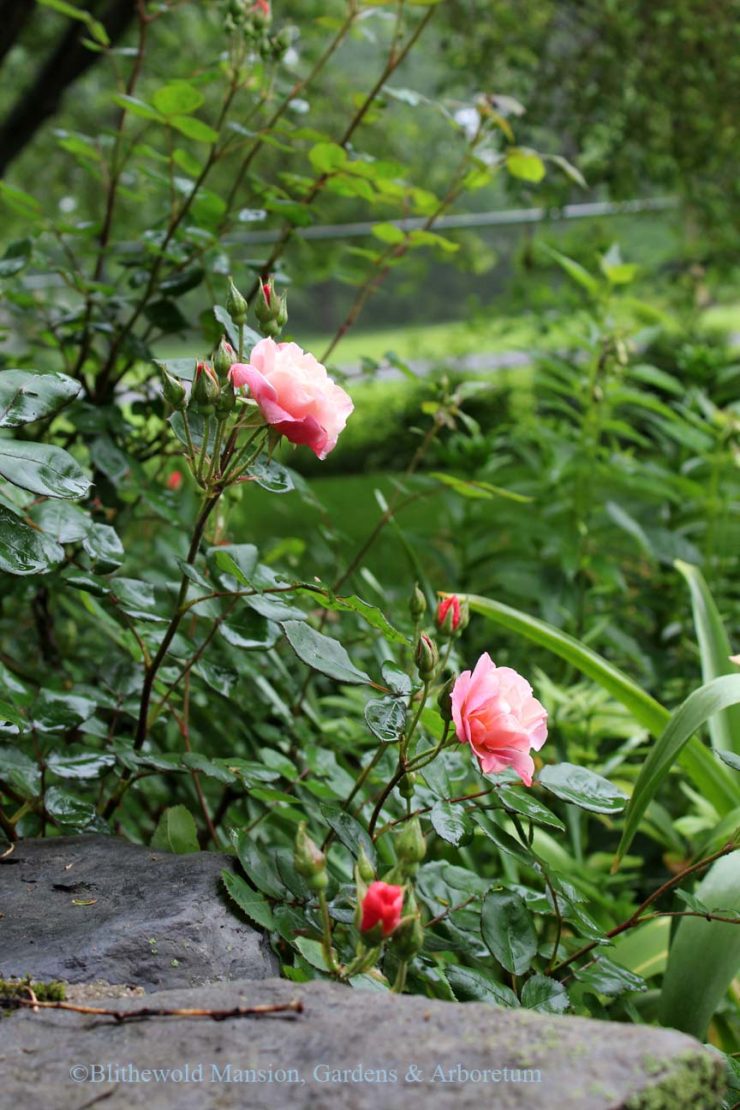 June has arrived and brought with it the full swing of garden life. The first thing I notice in June is the elevated pollen levels, but this is due to the sheer abundance of plants (mostly trees and shrubs) in bloom. I will fight with the allergies if it means more flowers around me. All of that beauty is worth the sneezing.
Not every showy plant is cause for our allergies. Indeed, one of the showiest plants in bloom at Blithewold this week is the Chestnut Rose (Rosa roxburghii). Blithewold's specimen was procured by Bessie Van Wickle McKee from George Washington's Mount Vernon in the early 1900s making this plant about 100 years old. The Chestnut Rose was first discovered by Dr. William Roxburgh in China in the early 1800s and quickly brought to England and then America. It is a resilient plant that tolerates our fluctuating winter weather while reliably blooming the first week of June every year. You could mark a calendar by it. It is also positively beloved by pollinators. I observed bumble bees, honey bees and syrphid flies all enjoying the copious amounts of pollen provided by this large specimen. We estimate that it has grown to at least 20 feet in width. There is a slightly smaller chestnut rose on the opposite corner of the Rose Garden. That one is the offspring of this original plant.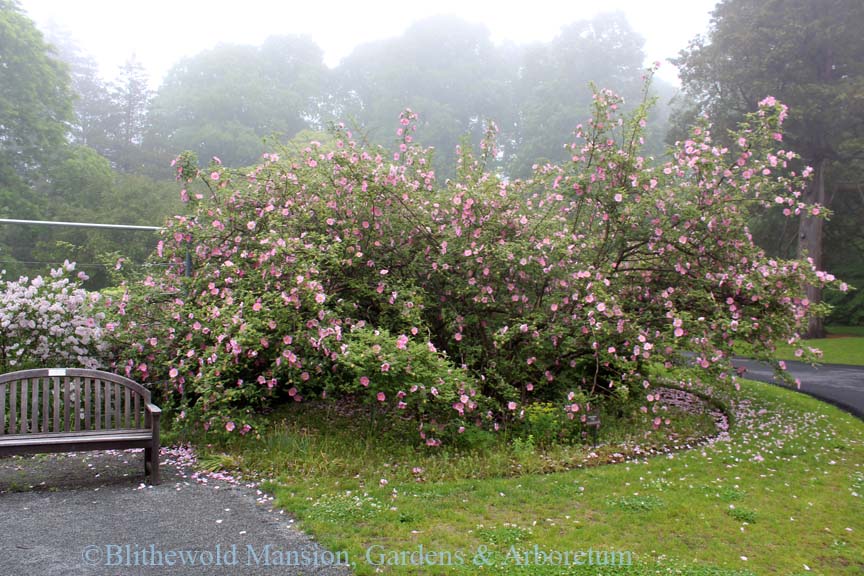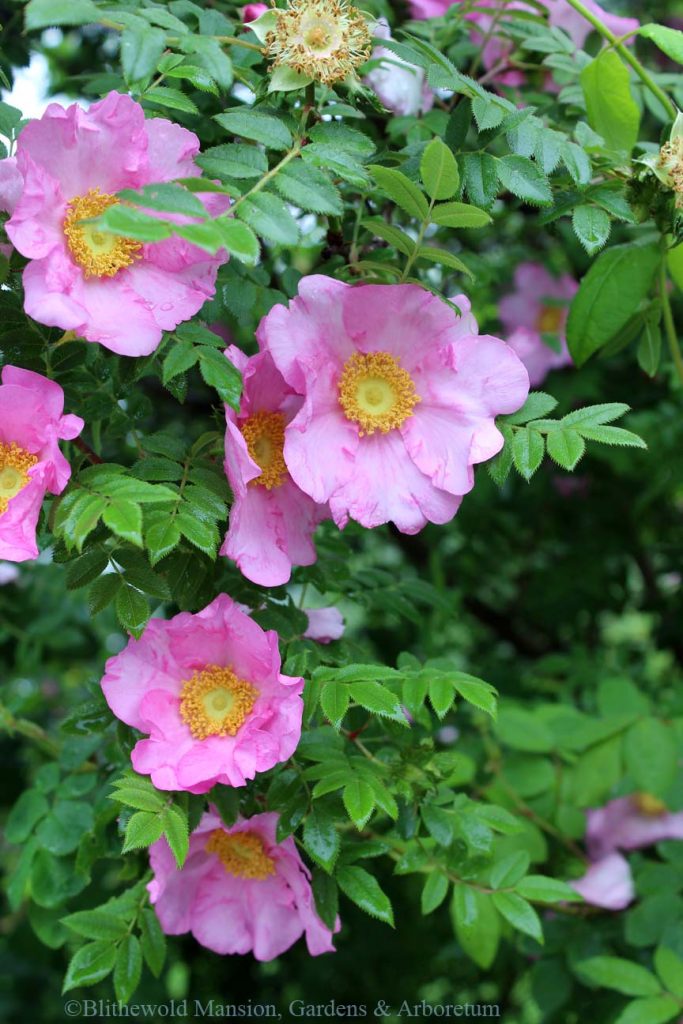 Gail, Joe, Kristen, Becca and I (and our crew of volunteers!) have spent the last couple of weeks planting almost non-stop. It has been absolutely glorious planting weather. Often we complain about the quick leap from cold spring to hot summer, but not this year. This year spring has taken its time and that has afforded us near perfect conditions to get hundreds (thousands? – okay maybe it just feels that way) of plants in the ground.
While we wait for these annuals and tender perennials we just planted to come into their own in the gardens, the late spring/early summer perennials are here in full bloom.
Sicilian honey garlic (Nectaroscordum siculum subsp. bulgaricum)
Sicilian honey garlic is one of those plants that we are asked about almost daily. Its chandelier form is an unusual one. Although it looks fancy, it is fairly maintenance free. Like other ornamental onions, it is a perennial bulb that is planted in the fall and returns year after year. It is also a magnet for hummingbirds.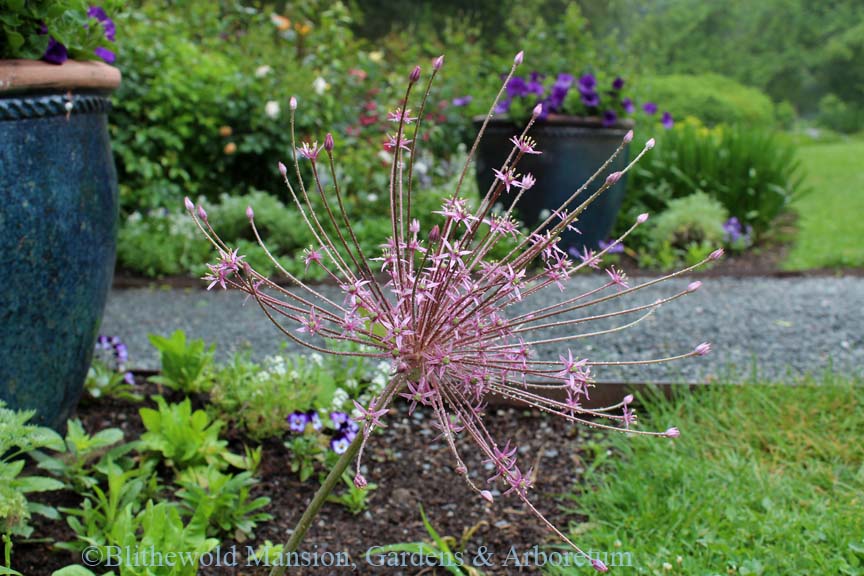 The other ornamental onion that always catches everyone's eye is Allium schubertii. This diminutive marvel is in bloom in the Rose Garden this week. It reminds me of a frozen fireworks explosion. One of my favorite things about this plant is how the seed heads dry and hold up for years as decoration.
The Itoh peonies in the Rose Garden are truly stunning right now. They always take their moment in the limelight after the tulips and before the roses. A cross between a tree peony and an herbaceous peony, the Itoh peony hybrids boast giant blooms with incredible color.
False indigo (Baptisia australis) is another plant with intense color in bloom right now. The two cultivars 'Starlite Prairieblues' and 'Twilite Prairieblues' in the Idea Gardens keep drawing me in this week. The true blue color of the false indigo I know and love will always be a favorite, but these two are making their case for their places in the garden.
There is so much more to see and experience across the property in June. I want to savor every moment while being equally excited about what is next. I hope to see you here soon!