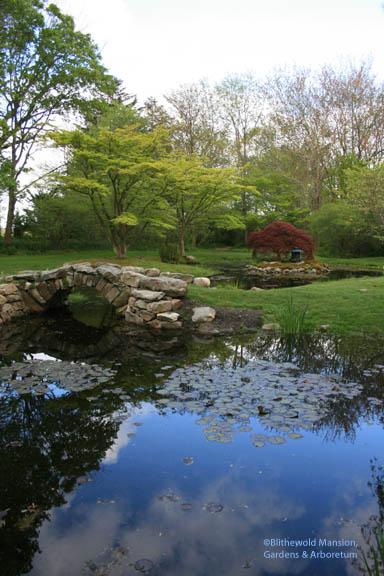 You all know by now that I love taking plant portraits. I especially like the up-the-skirt close-ups, the Georgia O'Keefe abstracts and the soft focus glamour shots.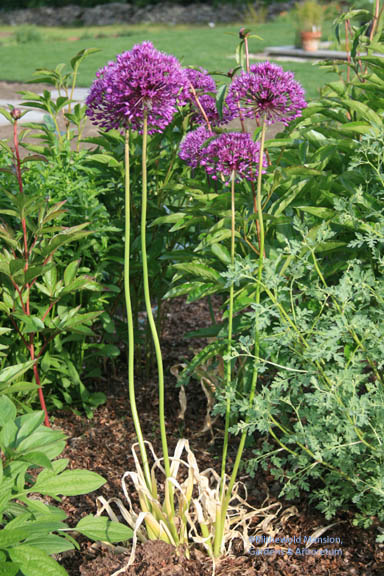 The wide angle shots are harder to compose (except in the Water Garden where every vista is painting perfect); labels stick me in the eye and hoses are like neon signs. But like many (all?) of you who spend time researching the right plant for the right spot (something I'm spending time on now for my own garden), I find it more than frustrating that many books, catalogs and websites only show the gorgeous close-up of a stunning flower. What the expletive deleted does the whole plant look like?! I believe we deserve to know the best and worst before we allocate precious space for a plant in our gardens.
The thing to do is put the books away and look around real life. Go for a walk, visit your friends' gardens and of course (you think I wouldn't put a plug in?) your local public garden/arboretum. And for virtual visitors I am going to do my darnedest to practice my longshots. Kim from A Study in Contrasts asked about the Father Hugo's rose (Rosa f. hugonis) – I stopped myself from going close to the flames again (they really do remind me of candles) so that she and you could see how outstanding the whole shrub is.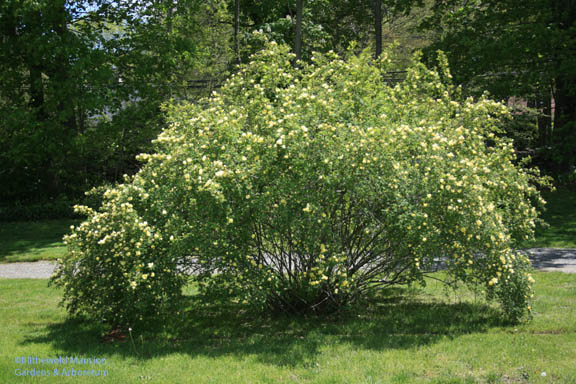 The thicket of canes arch gracefully and the foliage stays looking healthy. This particular plant is many decades old (possibly as many as 10…). I also stood back from the Dove tree (the tree blooming on the left is a dogwood) and the Halesia. The blooms on those trees did call to me like sirens. – But I resisted this time…
And the buds on the Empress tree (Paulownia tomentosa) pulled me in too.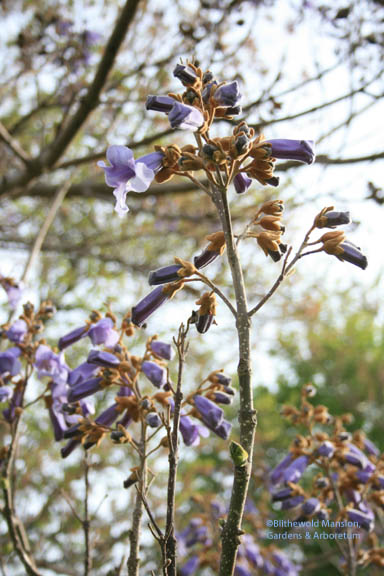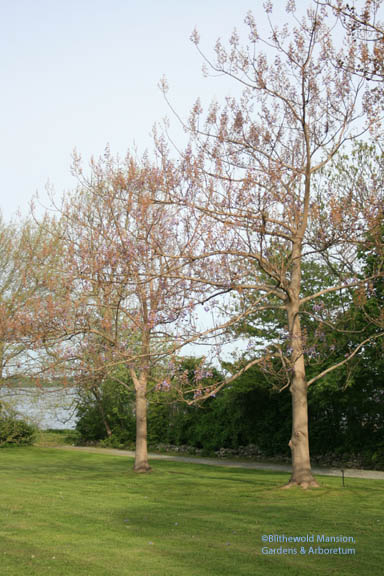 Pretty soon the air will be thick with the scent of grape cough syrup…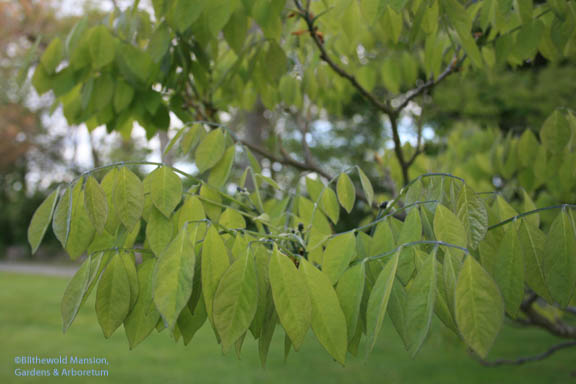 And I couldn't help myself with this one (click here for a longshot) – the Maackia is loosing its silver coloring but keeping a delicate pencil-sketched edge. Gorgeous!
This is the week we begin to know that summer is not a longshot – the Deadheads and Julie Murphy, Blithewold's new Education Coordinator (who might have to win the Best Dressed superlative. – Look out, Kathryn: You've got competition!), and Gail and I started forking out the tulips in the Cutting Garden. Over the course of the week, the North Garden and Rose Garden tulips will go. (We'll save those for next year's Cutting Garden.) Next week – planting!