Thursday, April 28, 2011
|
|
Daffodil Days
,
Daffodils
,
Daffodils
,
flower portraits
,
Spring
,
trout lily
,
tulips
,
tulips
,
what's blooming
The to-do list might be difficult to prioritize right now that everything needs doing, but when the faces all around us look lovely and the light is just right, the best (if not the number one most important) thing to do is grab the camera. Just like capturing your best friends' laughs on film, there's no good reason for any gardener to pass on memorizing moments like these. The weeding can wait.
Click on pictures for a larger view and/or mouse over for captions.
Daffodil Days ends this weekend (with a May Day Fairy Festival!) but it's by no means the end of the show. All of the daffodils, including the most interesting late varieties, are open (and will pop back up after the rain, no doubt) and the tulips are beginning their peak. Not only that but Gail pointed out to me that this must be a banner year for the trout lily (Erythronium americanum). Neither of us can recall them ever being so floriferous and the individual flowers seem larger than usual. If you visit, look especially for the patches of white ones (Erythronium albidum) swimming in the sea of yellows.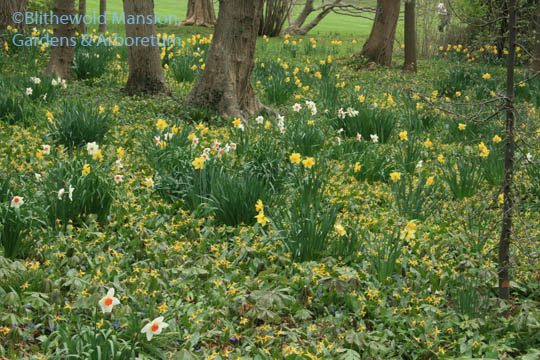 Have you already added "memorize this moment" to your to-do list?