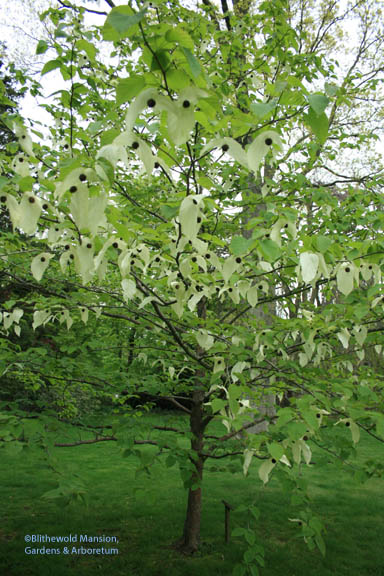 I can hardly believe it's mid May already and time once again for Garden Bloggers Bloom Day hosted by Carol at May Dreams Gardens. Check out the gajillion comments on her bloom day post to see what's blooming this very minute around the world. But before you go, here a few pics of some of what's "on" at Blithewold: (click on images for a larger view)
It's nowhere near Halloween but the Dove tree (Davidia involucrata) has been decorated in tissue ghosts. Its other common names are "Ghost tree" and "Handkerchief tree"- go figure…
The Carolina silverbell (Halesia carolina) is not to be outdone by the Dove.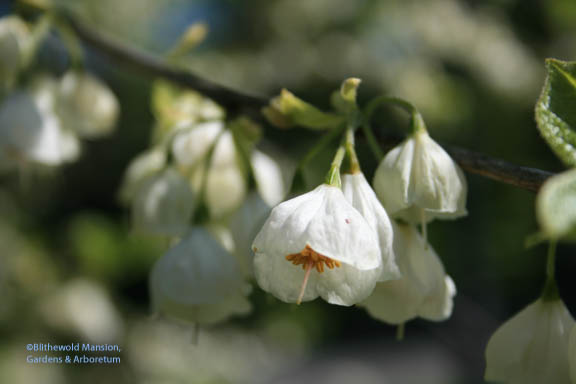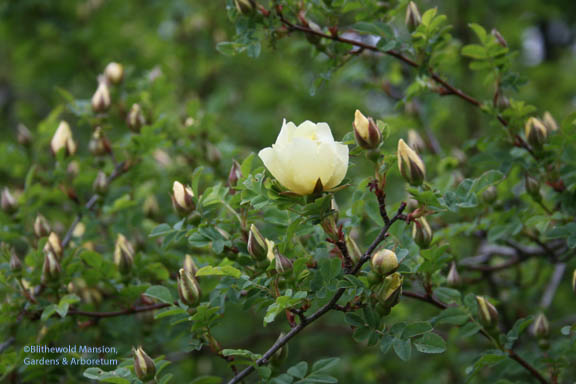 Father Hugo (Rosa hugonis/R. xanthina f. hugonis) is sparked to be a fully lit candelabra.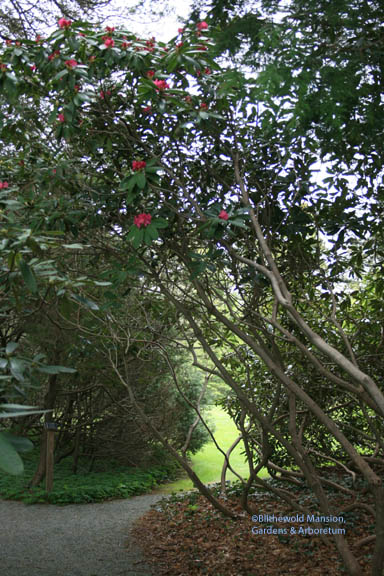 I looked up for once as I walked the path to the summer house and spotted the Rosebay rhody (Rhododendron catawbiense) on fire too.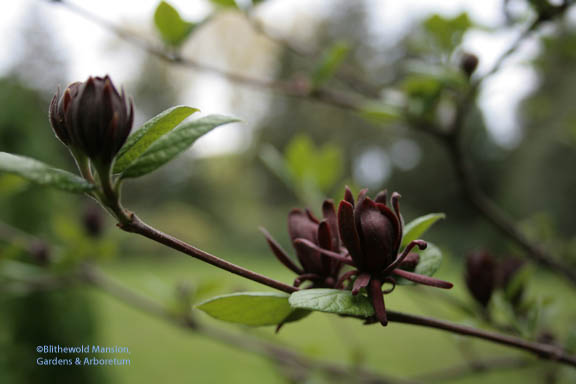 Juicyfruit anyone? The Carolina allspice (Calycanthus floridus) is starting to bloom.
True or false? This is Speiranthes convallarioides or False Lily-of-the-valley. It's evergreen, hardy to zone 5 and happily increasing in our dry shade bed (in a spot that gets some sun).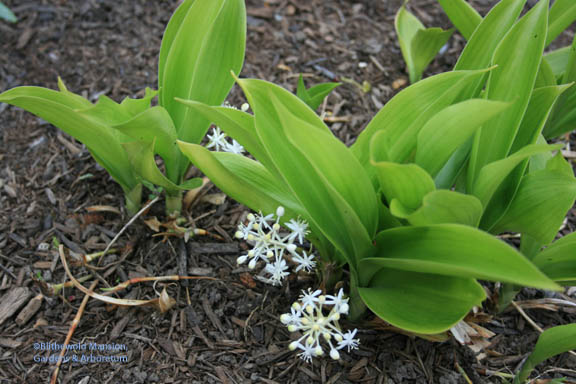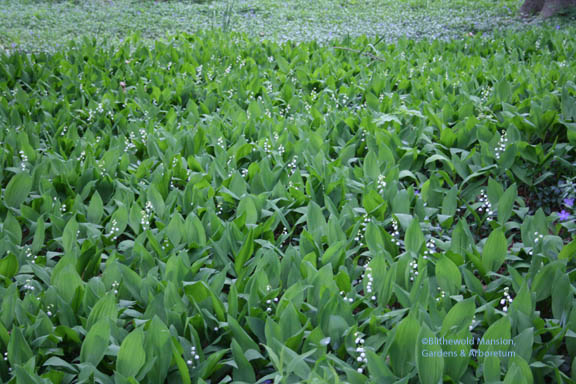 This is Lily-of-the-valley (Convallaria). And that's the truth.
Nearby, the Mayapples are blooming – you have to get down low to see the blossoms under the leafy umbrellas.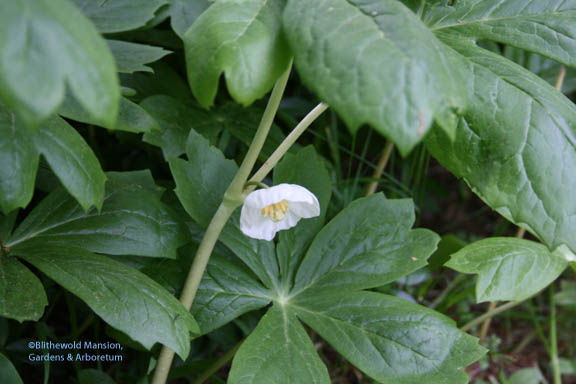 There are lots of sweet blooms in and around the Rock Garden: like Tulipa batalinii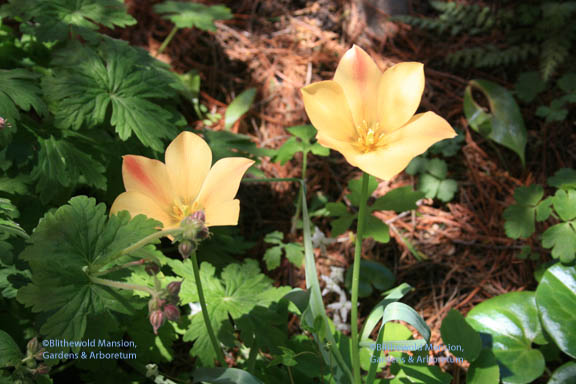 Fern-leaf corydalis (Corydalis cheilanthifolia)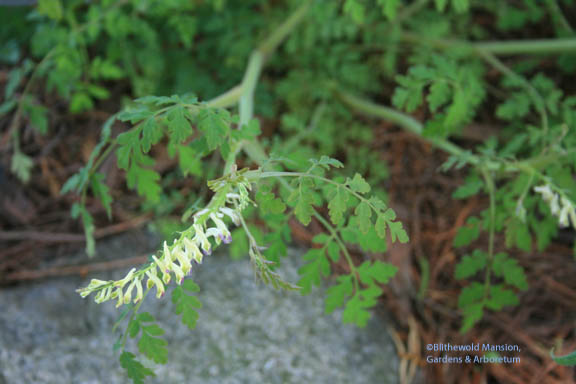 Tiarella 'Mint Chocolate'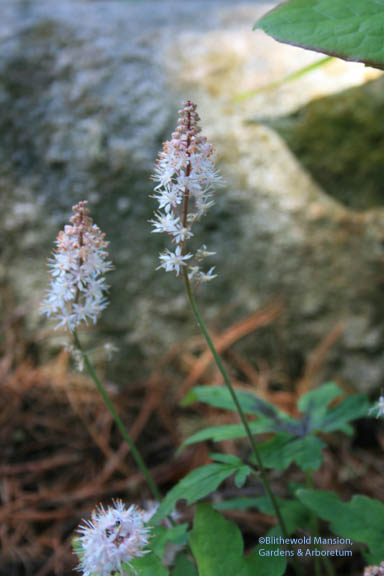 Wild oat lily (Uvularia sessifolia)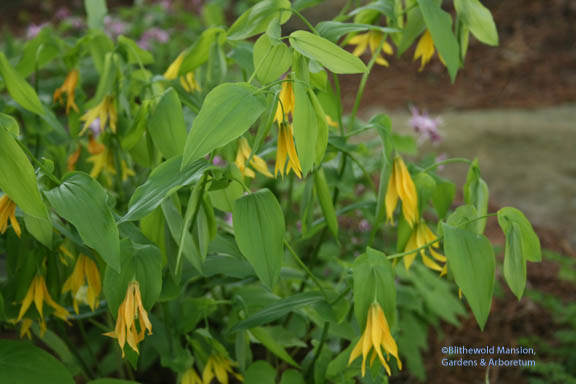 A wild geranium that the volunteers refer to as "Herb Robert" (that might have to be the name of my next pet!)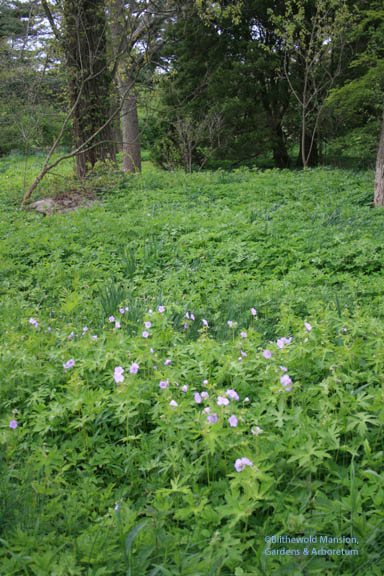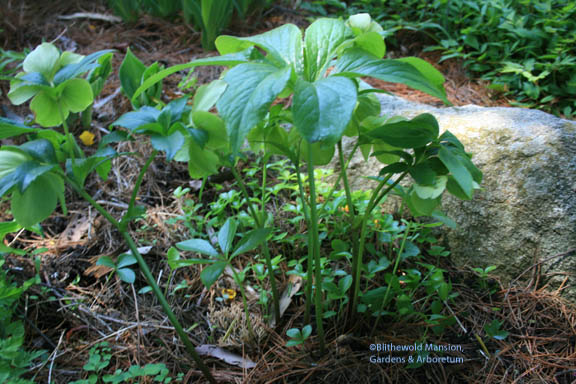 This Hellebore in the Rock Garden is about done blooming but look at all the seedlings! We think that this spring has been particularly outstanding for bloomeriferousness (yes, it is a word because my editor -that's me!- says so). Our theory is that last summer's drought must have stressed everything out so much they decided to put on a mad show of survival propagation this year. I think it's kind of like when I neglect my African violets and just before they go limp they give up one last gasp of glorious blooms – which of course reminds me to pay attention again… Are you seeing more-more-more, bigger-better this spring too?