Friday, October 10, 2014
|
|
container plants
,
dahlias
,
fall
,
fall gardening
,
Garden Study Day at Blithewold
,
greenhouse
,
greenhouse
,
How, When, What-we-do
,
indoor gardening
,
Noel Kingsbury
,
planthouse construction
,
the bees
,
weather
,
what's blooming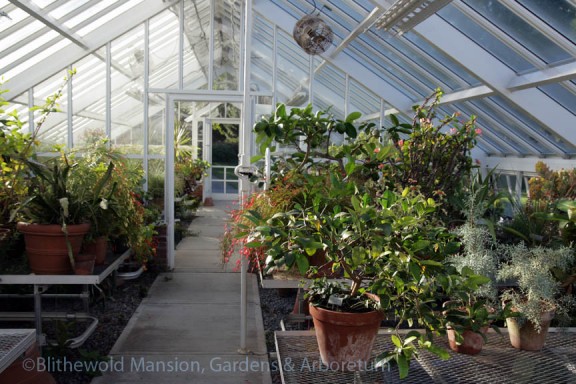 It was chilly this morning. No frost yet (perish the thought — our average first frost date falls in early November) but night temperatures in the forties are definitely giving us a taste of what's to come along with a chance to acclimatize, and a good reason to pull sweaters out of summer storage. And after spending this week moving cartload after cartload of plants from our container gardens back into the greenhouse, we're ready for frost. Not that we're really ready — the gardens are too lovely still. The bees and butterflies (monarchs!) are too busy. But we won't have to panic and dash to protect every last frost-tender favorite when the warning finally comes. Just the ones still in the ground, some of which can take a light frost and/or need the chill to help trigger dormancy.
Although it's definitely time to start bringing tender container plants back inside if you haven't already (best to give them a chance to get used to their new digs before turning the heat back on) here at Blithewold we follow the calendar more than the weather. After the mansion closes (this is the last weekend of the summer season) we have a lot to do in the short time before opening again for the Christmas season. Normally we would start digging tender plants and moving perennials next week but this year we'll wait one more. We want the gardens to still be looking their best and brightest next Thursday, the 16th when superstar Noel Kingsbury, British garden designer and author (with Piet Oudolf) of Planting: A New Perspective, among many other titles, comes for a Garden Study Day to teach us about plant growth and relationships. If you haven't yet signed up, please do. Check out the details here — you are welcome to attend the whole day, which starts at 9am and includes an in-the-garden workshop, a farm to table dinner prepared by Chef Matthew Varga of Gracie's, and an evening lecture; or any one or combination of those events. Lots of options! Just come. 
Because I mentioned moving back inside I have the perfect excuse to share an update on the construction of the new planthouse. It has a floor! Heated, even. Benches, electricity, and plumbing are next. With insulated glass, the heated floor and benches, we're looking forward to having a toasty house for growing on cuttings and seedlings and will probably be very tempted to move our desks out there this winter…
Is your garden moving into fall and back inside yet? Will you attend the Garden Study Day?