Friday, October 24, 2014
|
|
Annuals
,
cut flowers
,
Dan Christina
,
fall
,
fall
,
fall garden cleanup
,
How, When, What-we-do
,
what's blooming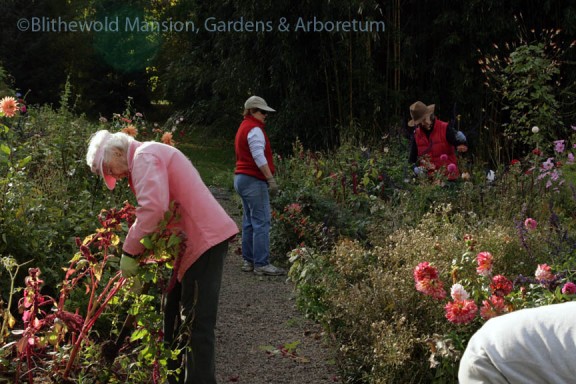 I'd prefer to think that the season is in transition rather than ending but when we start throwing some of summer's best blooms into the bed of Blithewold's truck, it definitely feels more like a goodbye than a see-you-later. This week, once again, the rain and a woolly nor'easter held off just long enough for us to keep to our schedule and tackle what Gail is calling "round one." On Monday, Gail and I brought in the last of the container plants — mostly New Zealand flax (Phormium spp.) and camellias, and dug our favorite tender perennials out of the gardens and potted them up to overwinter in the greenhouse. After that came the more heart-wrenching days of pitching. The Cutting Garden annuals were the first to go. Even though we left the dahlias, the garden was so heavy on globe amaranth, pincushion flower, zinnias, and love-lies-bleeding, it looks pretty empty and sad now. We pitched the North and Rose Garden annuals too, again leaving the dahlias and some salvias for the bumblebees, and cut back a lot of the perennials. But the bare patches in the gardens do hold a see-you-later sort of promise: over the next week or two (depending, of course, on the weather) we'll be planting bulbs in those vacancies. So, really, it's not goodbye after all.
Speaking of bittersweet transitions, Dan Christina, assistant grounds manager, tree expert, vegetable gardener, and fellow blogger, is leaving Blithewold to be the head horticulturist at Green Animals Topiary Garden, a Preservation Society of Newport County property just over the bridge in Portsmouth. We're super excited for him, and at the same time feel a huge loss. But I know, since Dan practically grew up on the grounds, has worked here for twelve years, and met and married his beautiful wife, Julie (Blithewold's education coordinator) here, that he is as rooted in at Blithewold as the giant sequoia, and we'll still see him around. He has already promised to come back — probably with son, Jack in tow — to help with upcoming projects and volunteer for Christmas Sparkle. So it's never goodbye. And we wish him all the best!