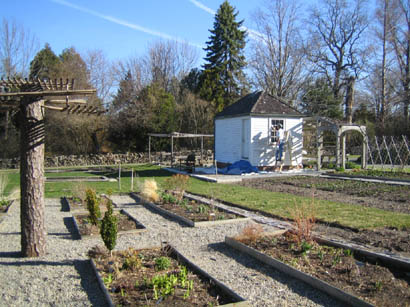 Spring has sprung — for real this time! Here's a few things that have been happening here today: The pumphouse is getting a much needed (and ever so slightly overdue) fresh paint job!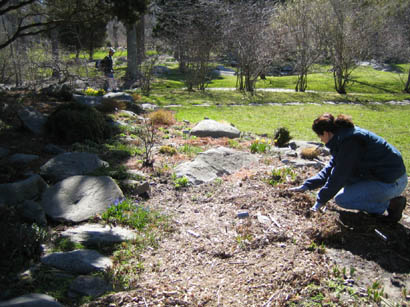 Gail and Dan and I cleared storm runoff from the rock garden but it's still so soggy down there I'm sorry to report that it won't be open to visitors until sometime next week. boo.
The Cornus mas aka Cornelian cherry is blooming away.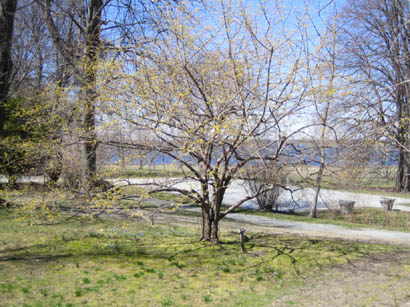 This picture doesn't do it justice! The pale yellow haze against the water and sky is loverly.
Another yellow beauty (besides the daffodils!) showing it's delicate self is the Erythronium aka Trout lily aka Dog's tooth violet. These mottle-leaved sweeties are coming up everywhere and blooming today in the North Garden.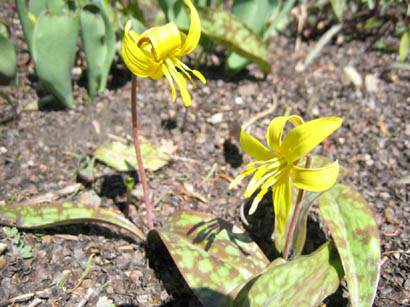 And the buzz on blue! The honey bees were out today loading up on the Scilla – and anything else they could get their buzz on.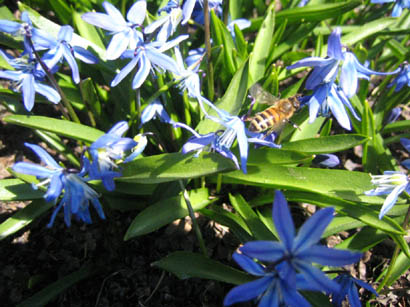 Scary news is honey bees have been disappearing in record numbers in a couple dozen states due to something called Colony Collapse Disorder. I'm so glad to see them still working away here! — Everyone plant more flowers!! We all need the bees!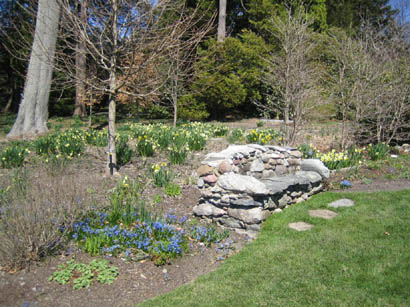 And here's what you've all been scrolling through to see – are the Daffodils peaking????? Not yet! But there are already bunches out and these sunny days will be all the encouragement they need! (We expect them to be in peak probably *next* weekend — but Mother Nature likes to surprise us! So come when you can — it's always beautiful at Blithewold!)