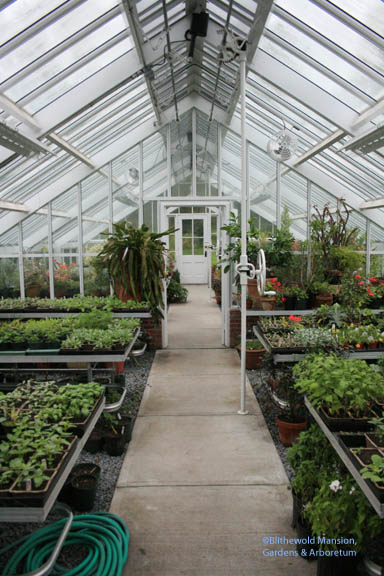 This time of year I absolutely live for the softly warm spring days that get me out in the garden. But after a few days of that I'm always ready for the rain days that pull me out of the garden and back into the greenhouse. We potted up; I went nuts spraying insectical soap on the few (very few) whiteflies and aphids (it's better for the plants to spray soap and hort. oil when it's cloudy) and we did a little more moving out. Our greenhouse days are numbered now and I am cherishing them – especially while it's not too hot in there.
We're very lucky at Blithewold to have The Julia L. Morris Horticultural Center. But before it was The Julia L. Morris Horticultural Center (named in honor of our bosslady director of horticulture, Julie) it was a falling down wreck of rusted iron, 100 year old cypress, broken glass and potty bricks and was pretty much held together with 5mil plastic stapled to the muntins.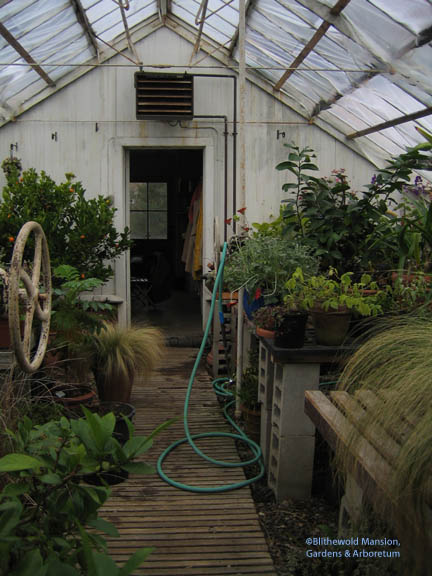 Some of you might remember the sign on the door: The Greenhouses Are NOT Open To Visitors Trespassers Will Be Composted. It was dangerous enough for the staff to be inside – a big wind was particularly scary – but the thought of visitors tripping on the rotten boardwalk or being beaned by falling glass was severely cringe inducing.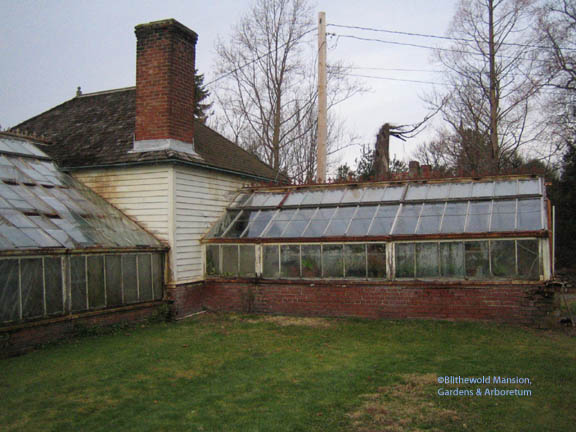 Only one of the big houses was heated – with a giant noisy blower hung above the door like a booby trap – and the other house was left to freeze with only the hardiest of tender inhabitants – a couple of collection fig trees planted in the ground. The little propagation house was warmed (ever so slightly) with rickety radiators and was stuffed to the gills.
I only risked my head a couple of winters in that greenhouse before the dilapidated Lord & Burnham was restored to its present glory (thanks to grants and generous donations and a contractor named Stephen Wacha) using modern materials.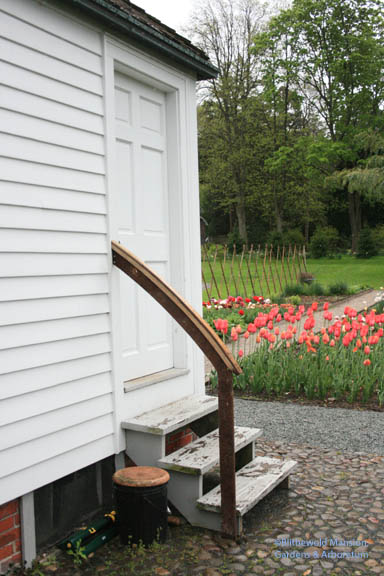 We have efficient radiant heat in all the houses, a safe walkway, benches that stay standing, vents that open and close automatically and new fans that have helped regulate the temperature and keep the bug and fungal activity to a minimum. And it's open to the public! Some of the original features remain – the south gable end is restored cypress, the iron work finials were cleaned up and put back up and the vent cranks were reinstalled as decorative features. The old greenhouse lives on in other ways too – sills and foundation blocks and iron gutters are being recycled in all sorts of different ways in the gardens and – look at this – a most handsome railing for the pumphouse that Fred, Dan and Joel put up yesterday using what looks like cypress and iron from the old palm house (dismantled long before our time).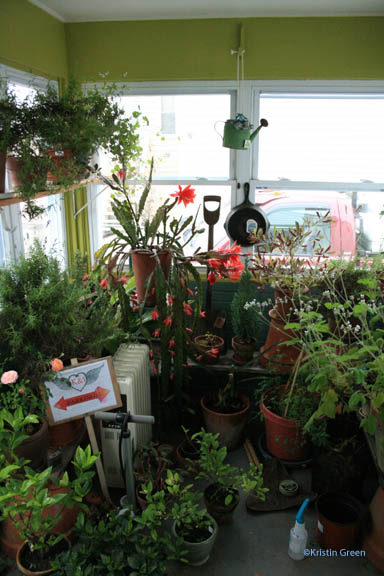 I keep hearing stories about people who have unused greenhouses on their property and I go green(house) with envy. I know that heat and maintenance cost an arm and a leg but still what I wouldn't give… Most gardeners I know make do with sunny windowsills, grow lamps in the cellar or a cool southside porchlet like mine here. What does your greenhouse look like?
This Sunday Julie and expert plantsman and volunteer Gil Moore will be here from 1 – 4:00 hosting an open (green)house. They'll have answers for your Mom's questions and there will even be a few choice houseplants and tender perennials for sale. Happy Mother's Day!