Friday, August 21, 2009
|
|
Annuals
,
Gardens
,
heat
,
humidity
,
summer
,
weather
,
weather
,
what's blooming
,
what's colorful
,
what's in bloom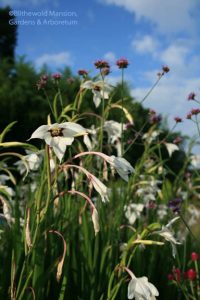 I'd like to take just a moment to fulfill my duty as a New Englander and complain about the weather. For the past week or two it's been hot. And not only has it been hot but the humidity has been in the 70 to 90-something percents (scientifically calculated based on perspiration index, I believe). Summer may have been late this year (check out when I started complaining about the heat last year!) but we've got it now and when I can't find a way to cool off, I think it kind of stinks a little. But the plants – especially some of the annuals that love the heat – look like they've waited their whole lives for this moment and the gardens are positively busting out with exuberant color that seems to be just getting going. It's even beginning to look like the tomatoes might ripen after all. I've heard some speculation that the late start might signify a prolonged summer season. Would you welcome that or have you already started looking forward to fall?
We just started watering the gardens this week – which is truly remarkable since, obviously, it's the middle of August. And there were a couple of benefits to watering the gardens by hand that I sort of forgot about. Standing still gives me a chance to really critique the gardens and daydream a little about what it could look like next year. Although I must say that standing in the sun isn't conducive to forming thoughts much beyond "Purple's nice. I'm thirsty."  I also love getting a chance to really tune into all of the in flight entertainment which is definitely one of the biggest garden treats of this time of year no matter what the weather. Hummingbirds, butterflies, moths, bees, dragonflies, the hawk – you name it, I was buzzed by it.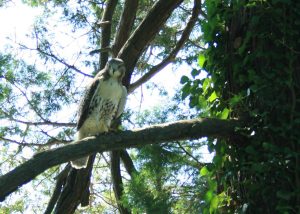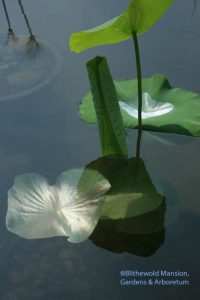 Fred and Dan recently repaired the cement pond in the Display Garden and since it seemed to be holding water, we decided to finally replant it and of course I raised my hand to be the one to jump in. Too bad for me that the room temperature water wasn't more refreshing… But thank goodness the lotus and waterlilies survived dry land – in one short day, submerged leaves have broken the surface and they too are finally getting to pick up steam.
When did summer arrive in your garden?