Tuesday, May 8, 2012
|
|
annuals
,
Annuals
,
Biennials
,
cool crops
,
Display Garden
,
greenhouse
,
How, When, What-we-do
,
planting
,
planting
,
Spring
,
Spring
,
teasel
,
volunteers
,
weeds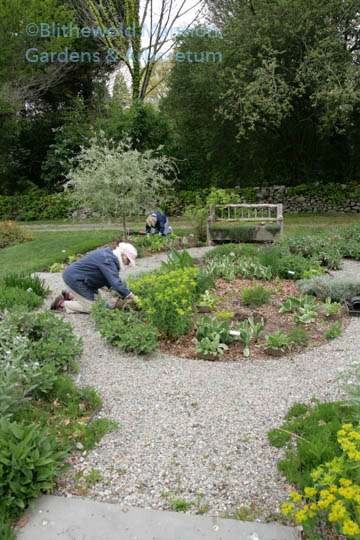 Now that the heat of April is behind us, we're taking full advantage of the coolness and rain of May. The weather is a little backwards but we'll take what we can get when it comes to planting weather. With a few days of rain in the forecast we were really thrilled to have a dry day today and a good crew to start putting in some of our cool-season annuals. We planted tassel flower (Emilia javanica) in what promises to be a stunning combination with annual campion (Viscaria occulata 'Blue Angel'). We also planted calendula, Salvia claryssa (a diminutive clary sage), some pretty tough looking bee's friend (Phacelia tanacetifolia), golden feverfew (Tanacetum parthenium 'Aureum'), Virginia stock (Malcolmia maritima), ornamental kale 'Sunset', and honeywort (Cerinthe major var. purpurescens 'Kiwi Blue') among other various and sundry things I've already forgotten.
In some places we had to elbow a few volunteers out of the way – volunteer reseeders, that is. You might this this sea of teasel seedlings is horrific but I like to think of them as a really excellent weed barrier. Nothing can penetrate that mat but it was quick work to delete a few to make room for a new little border of clary sage. And with any luck that will seed itself around too.
All of the garden's newest tenants will be happy to have cloudy skies and plenty of rain (fingers crossed) to help them settle in. And now we have more room under the arbor for "hardening off" the next batch of plants to come out of the greenhouse. Tender perennials like Mexican anise hyssop (Agastache spp.), salvias, porterweed (Stachytarpheta spp.), and geraniums (Pelargonium) are next on the list — although all of those might prefer to wait to go out after the rain has stopped. That's alright because it's also time to move out some of our container specimen like the camellias, coprosmas, farfugium, and sweet olive (Osmanthus fragrans). The shift is on.
Have you started to plant cool-season annuals yet?