Wednesday, May 26, 2010
|
|
annuals
,
Annuals
,
Display Garden
,
Display Garden
,
garden design
,
garden design
,
How, When, What-we-do
,
planting
,
planting
,
Spring
,
tender perennials
,
tender perennials
,
tomatoes
,
volunteers
,
volunteers
,
weather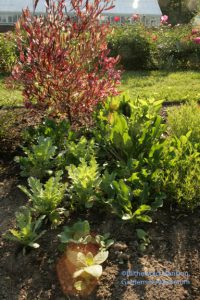 According to the calendar, we're a week ahead of last year and even slightly ahead of May's full moon, but we couldn't wait another minute to start planting. And according to the temperature – hot! – we're right on schedule. I do wish our timing didn't seem to consistently coincide with the very hottest days of late spring… It would be much better for the plants to choose a week of cool, gray days. But it seems that when we turn the corner on night temperatures, we run headlong into the days of summer. We're working against the clock of full summer heat all of a sudden.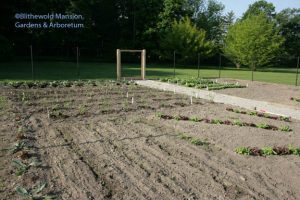 We're in good shape though because reinforcements have arrived – Cathy (Harvest Maven) is back to help Dick in the vegetable garden and Lilah (Weed Woman) completed her sophomore year at Bard and has joined our crew for another summer! They planted tomatoes in the vegetable garden yesterday and with the volunteers' help, gave the weeds what-for.There's room now for another round of vegetable planting.
Yesterday the Tuesday volunteers also planted the big Display Garden bed. For the last 3 years it has been slowly filling with perennials, shrubs and self-sowers but we have deliberately left plenty of blank canvas for painting a new picture every season – something the perennial plant addict in me can't seem to do at home. This year Gail and I placed 300 annuals and tender perennials that we hope will grow to be a riot of deep colors and bold textures. It already looks night-and-day different from last year's frothy haze of pale lavenders.
The Rockettes are planting annuals and tender perennials (dahlias!) in the North Garden tulip pockets as I write and, weather permitting, we'll plant in the Rose Garden tomorrow.
But just because we're planting this week doesn't mean that by next week we'll be finished and can go home. We aim to have everything still waiting in the greenhouse planted by the end of June even then there will be endless tweaking and editing to be done here and there. – The gardens are, in fact, a work in progress from here on out.
Are you planting this week too?