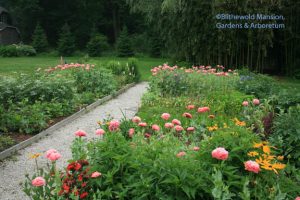 It was Lilah's suggestion when she first saw the sea of pink peony poppies (voted Most Flirtatious) in full bloom in the Cutting Garden that I do a Superlatives post. Since I spent high school trying to escape detection, I never properly appreciated the value of yearbook superlatives – "most popular" I was not; though I might have had a chance at "cheekiest"… Now I'm thrilled to participate in the voting and have added a post category to my list in anticipation of this being a new tradition. Without further ado I give you the winners for the month of June:
Biggest Gossip
Eschscholzia californica (California poppy) has had everyone talking.
a three-way all-Echinacea tie for Most Likely to Succeed
We think that 'Sundown' will be a keeper in the North Garden for spanning the July gap. And 'Virgin' along with the long anticipated 'Green Envy' will always succeed with me.
Prettiest Smile
Dahlia 'Pale Tiger' brings out the gorgeous grin in all of us.
Class Clown
There's just something about Calendula 'Antares Flashback' that makes us a little giddy…
and Most Likely to Be Famous
Click here to see a recent post about our giant sequoia by Danielle Sherry, an associate editor at Fine Gardening Magazine!
Do you have any superlative winners in your garden?