Monday, April 4, 2011
|
|
daff cam
,
Daffodil Days
,
Daffodils
,
Daffodils
,
How, When, What-we-do
,
Spring
,
what's blooming
Even though the gardens and grounds are open year-round, we try to look our very-extra-best for the official opening of the mansion and the true start to our summer (please let us have spring first!) season. The volunteers have gotten into (almost) every garden to clean winter out; Gail and I are planting spring container displays and double-checking that the greenhouse residents are well labeled and lovely; and Fred and Dan are making sure there's not a leaf or greening-up blade of grass out of place on the whole property.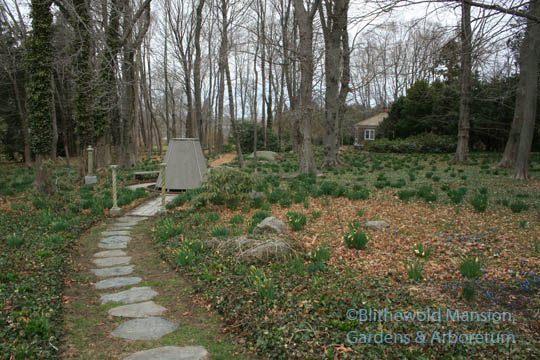 We're just about ready for Daffodil Days (beginning Saturday, April 9) and the daffodils are too. The 'Ice Follies' at the edge of the Bosquet are just beginning to open and everybody else is budded if not yet bent at the neck. — I have to admit that I never before noticed that daffodils bow right before they open…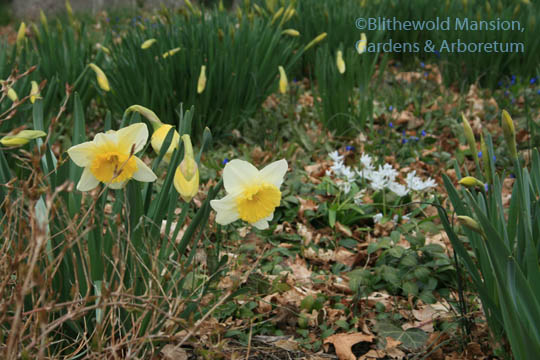 I also never noticed these miniatures before and if you can spot them on the property, I'll give you a prize. I'm trying to bone up once again on all the different daffodil divisions (the American Daffodil Society says there are 13 divisions and I'm inclined to believe the enthusiasts over any other sources) and have learned that there are miniatures in every division. My best guess puts ours in lucky 13, which includes species, wild variants and wild hybrids, and if you know the cutie's name I'll give you a prize.