Every time I walk the propery, I think it just can't get any prettier. But I have to say, after walking around this morning, the daffodils must finally be peaking — it's gorgeous out there!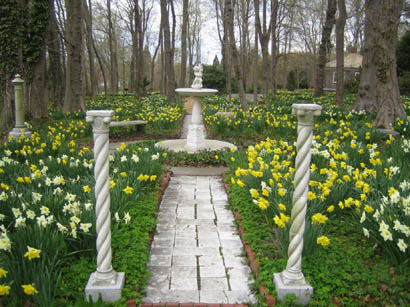 I looked back at last year's calendar and they're definitely about 2 weeks behind but like a box office smash, this year's run is being extended. I thought the rain last week would do them in but they've popped back up and the forecast is calling for more cool nights (in the 40's for the week) so they should be in peak for the week (finger's crossed; kisses to Mother Nature).
In other bloom news,
the Autumn flowering cherry is at it again although slightly less floriferous than when it bloomed during December's warm spell. How cool is a cherry that blooms (at least) twice a year?! (answer: very cool!)
Ever since I found out one of my friends is color-blind I've been on a green flower kick. Looking for and enjoying a good monochrome is as close as I (as a color junkie) can get to understanding what it's like to see in shades of grey. (That and un-Ted-Turner-ified classic films.)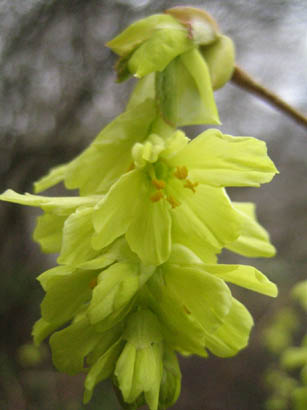 I spotted this Winter hazel in the water garden. With so many chartreuses in the spring landscape it's too easy to overlook little delicacies like these.
According to last year's calendar, on May 4th, 2006 we were late putting the hoops on the North Garden peonies. Only ever so slightly more on top of it this year, I put the hoops on this morning – probably just in the nick of time.
I only had to coax a few buds through the grids rather than smashing the whole plant through. If you are a hooper – get to it! –The peonies are not waiting around! Keeping a garden journal or just writing down a few observations in the calendar helps clarify which plants are day length sensitive and which hold out for the warmer weather.
Remember this guy? Today the same Cinnamon fern looks like this!