Thursday, September 13, 2018
|
|
bumble bees
,
Display Garden
,
North Garden
,
pollinators
,
Rose Garden
,
tender perennials
,
the bees
,
what's blooming
,
what's colorful
,
what's in bloom
,
wildlife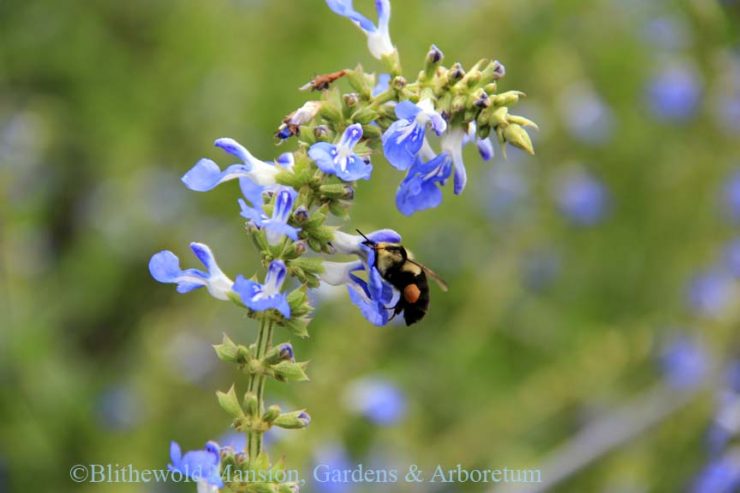 If you have been an avid reader of this blog, you may recall that September is my favorite month in the gardens. The weather still has a hint of summer, but with (slightly) cooler temperatures; and, the flowers are going great gusto before the daylight dwindles and fall is truly upon us. It may seem as though summer officially ended on Labor Day, but someone failed to tell that to the gardens.
September is when our sage collection is fully on display. Our tender perennial sages are currently blooming their heads off from the Rose Garden to the Display Gardens.
Bog sage (Salvia uliginosa) is a tall, pale blue sage native to South America. As its name suggests, the native habitat of this sage is swamps and bogs, but it has done quite well in our (decidedly un-bog like) temporary planting in the Rose Garden. We used this beautiful blue flower, along with many other tender perennials, to fill in the garden space where the Visitors Center once resided. We decided to use almost entirely non-hardy plants in this planting since it is not a permanent installation. (Further discussion is still to come on a re-design of the Rose Garden now that the Visitors Center is beautifully housed in the Carriage House.)
The bumblebees and hummingbirds have been feasting on these flowers all summer (see featured image at top). It's been a flurry of activity whenever we work in the Rose Garden. It is such a pleasure to be in the midst of a garden full of life.
Planted nearby is another stunning sage called 'Rhythm and Blues' (Salvia x guaranitica 'Rhythm and Blues'). Gail and I have discussed on and off all summer whether this sage is supposed to be blue or purple in color. We have finally decided that it looks as though the plant has a natural variation in color as a result of being a hybrid (it is a cross between Salvia guaranitica and Salvia coerulea).
While you are in the Rose Garden, if you turn your gaze toward the earth a bit, you will notice a pretty little purple sage called 'Mysty' (Salvia x 'Mysty').
This floriferous cutie is a cross between S. longispicata and S. farinacea. It is a fantastic choice for the front of the border and its late bloom time means there will be flowers from now until October, which is always a win.
The North Garden is home to some of our favorite, tried-and-true sages. 'Indigo Spires' is a classic choice for height and color late in the season. The medium blue color goes well with almost any combination, but it is especially suited to the North Garden's color theme of yellow, blue, apricot, and white. Here it is blooming alongside our Daylily 'Wee Willie Winkie' and Dahlia 'Blyton Softer Gleam' creating a stunningly elegant combination.
In the Display Garden you will find a slew of different sages that have found their home in our less formal garden areas. Salvia splendens 'Van Houttei' is a gorgeous true red sage and is now in bloom near the bamboo. This is one of Gail's favorite sages and I can see why. It is a hummingbird magnet and stands out in the garden at a time when there is a lot to see.
Another hummingbird magnet is anise-scented sage (Salvia guaranitica). There is a lovely specimen of this plant on the edge of the Herb Garden. We see hummingbirds and bees constantly visiting these electric blue flowers.
There are several other sages that are about to be in bloom (Salvia leucantha and Salvia mexicana 'Limelight'). They make the transition from warm September to cooler October a bit more bearable. Come and check out the salvias and enjoy a peaceful walk around the gardens. It's the perfect time of year to experience Blithewold.