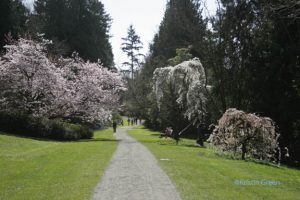 I'm no doubting Thomas but I can tell it's spring because I've seen it up close, and I've smelled its intense sugary sweetness in the air. Spring and I were both in Zone 8 last week. Now that I'm back in Zone 6 (maybe 7) I'm reassured to know that elsewhere in the world the cherry trees are blooming and the daffodils are almost gone by. A little time away also made the changes here at home all the more obvious to me and extra precious.
Maple trees (such as red, silver and sugar) are in full bloom, forsythia and magnolias are starting to open, and leaves are emerging on all sorts of Asian introductions, earlier than everything else – just like Professor Tallamy said they would. Not only that but if it wasn't raining quite so hard today, I'd take my first Daff Cam picture of the season because a few in the Bosquet have already started to open. Looking back at calendars and pictures from the last few years, I think it's safe to say that this year we're all being treated to a little spring preview. Over the last week in the greenhouse, Gail and the volunteers filled benches full of seedlings and the gunnera pushed enormous, weird flower spikes out of its mysterious tangle.
If the rain ever lightens up (we're calling it Lake Bristol right now) I'll take you outside. In the meantime, here's a glimpse of the preview I was treated to at the Washington Park Arboretum and Japanese Garden in Seattle. If only there was an app for scratch-n-sniff…
What has changed in your garden over the last week or two? Is your spring sproinging or already sprung?