Friday, May 6, 2016
|
|
Annuals
,
bulbs
,
Cutting Garden
,
cutting garden
,
dahlias
,
garden design
,
garden design
,
Gardens
,
greenhouse
,
How, When, What-we-do
,
North Garden
,
North Garden
,
planting
,
planting
,
projects
,
shrubs
,
Spring
,
Spring
Despite the wretched weather this week, we ushered in May with a flurry of activity.  The volunteers helped us pot up 100 dahlias in preparation for planting out in the gardens next month.  They also transplanted Cosmos and Zinnia seedlings that will eventually be planted in the Cutting Garden.  We are trialing about a dozen varieties of these two flowers.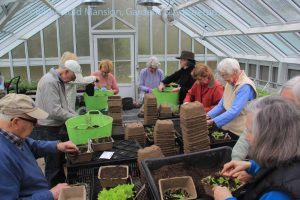 The other big project of the week was in the North Garden.  Every year we change the gardens by taking out plants we no longer feel appropriate for the space, planting new plants, and altering the color scheme.  This year I think it's safe to call the changes to this garden an overhaul.  The North Garden has long been our most formal planted area.  It is where weddings are held and also where the original owners of Blithewold created a formal garden.  This year we added Boxleaf Euonymus (Euonymus japonicus 'Microphyllus') and also 6 new pots in the flower beds.  We also removed the roses (Rosa 'Ballerina') as their form is too rangy for such a formal space (i.e., they tend to spread all over their neighbors).  The finishing touch involved spread buckwheat hull mulch throughout the garden.  All in all, we are pleased with the outcome so far, but only time will tell how our edits and changes make a lasting impact throughout the season.
Has the spring rain inspired you to make changes in your own garden?  Do you garden with formality or a more wild look?