Friday, February 24, 2012
|
|
Annuals
,
greenhouse
,
greenhouse
,
How, When, What-we-do
,
mice
,
pests
,
Prunus subhirtella 'Autumnalis
,
Renee's Garden
,
seed starting
,
seeds
,
Spring
,
sweet peas
,
trees
,
Unwins
,
weather
,
what's blooming
,
winter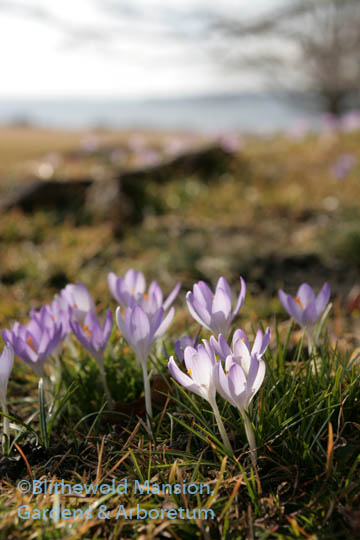 I really don't know what to make of this season. The last few days have been in the bird-song-balmy 50's but we woke this morning to fat flakes. They have already turned to freezing rain and I would say we have finally turned the corner from a spring-like winter to a winter-like spring. It's been really tempting to jump the gun on spring – Gail and I haven't been able to stay out of the garden tidying up. And we're not the only ones: the autumn blooming cherry (Prunus subhirtella 'Autumnalis') has a hair-trigger for spring too. Poor thing is blooming away, again, in the snow. Might not look like much in actual spring this year and it will be interesting to see if any tiny cherries develop. (The bees might have been on it in the last few days anyway.)
I know it's springter and the official start of the garden-calendar year because we sowed the sweet peas this week, right on a President's day schedule.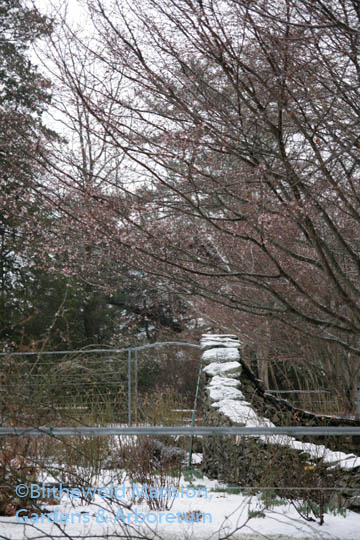 (Washington's birthday to be exact.) We haven't gotten all of our seeds in yet so we started the ones I ordered from Unwins and a few I was offered for free from Renee's Garden (I'm on a free-trial list through my Garden Writers Assoc. membership.) Even if we had purchased them, which we have in the past, I would have to say that Renee has some of my favorite varieties (Blue Celeste, Watermelon, Cupani's Original) and is very generous with her seeds. I like that. The more sweet peas the better especially since they seem to be tempting to our newest greenhouse tenant. It's been a while since we've had mice and I'm not sure what I'll do if they work their way through a top and bottom barrier of appropriated row-cover cloth.
We started the sweet peas in cowpots, and rather than nick or soak the seeds (I inevitably ruin seeds and destroy my fingers by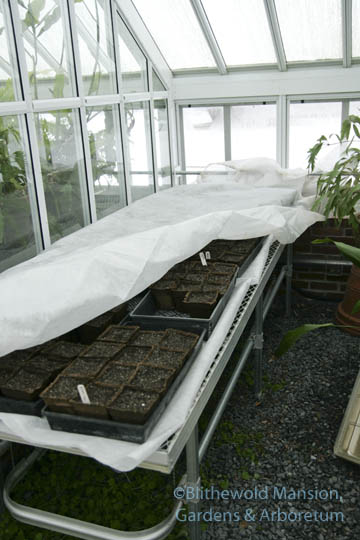 trying to snip or file the seedcoat off) we simply sow them about a 1/4″ down, put them in our coolest greenhouse, and wait. Our mouse unearthed evidence that they are already beginning to swell out of their coat. In another week or two, any that remain uneaten should begin to emerge.
Are you sowing sweet peas this year? What marks the start of your garden-calendar year?