Tuesday, May 26, 2009
|
|
May
,
planting
,
Spring
,
Spring
,
weeds
,
weeds
,
what's blooming
,
what's colorful
,
what's in bloom
,
wildlife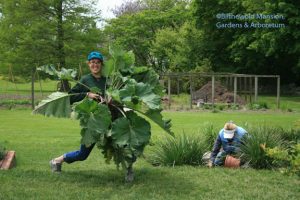 Just as Gail and I teetered on the edge of overwhelmed, Cathy (Harvest Meister) and Lilah (Weed Woman) came back to lighten our load and lift our spirits -and not a moment too soon! Non-gardeners never believe me when I describe this time of year as "stressful". I mentioned to someone that I spent the weekend "madly gardening" at home and was told that that must be an oxymoron – after all isn't gardening supposed to be contemplative and therapeutic? Fellow gardeners, I know you know the frenzy that can overtake just now (let's call it a Maynia). Not only is there an endless list of must-do-right-nows – like planting and digging out weeds that grew 5 feet tall all of a sudden when we were focused on planting – but we must also remember to notice and appreciate all of the returning plants and blooms – as if they're old friends back for an annual reunion. I don't know how many nights I've woken up worried that I might have missed a favorite plant's peak (and right now they're all my favorites). I almost snubbed the tree peony this year… I have some catching up to do with you all from before the long weekend. Here are some things I would have been disappointed to forget to welcome back and show off to you:
Hover over for captions/identification and click on for larger image.
Last Friday, Gail, Linda (one of the Rockettes) and I were "madly" planting/weeding in the North Garden when some visitors up on the north porch called our attention to the enormous red-tailed hawk taking a bath in the fountain not 30 feet from where the three of us were working. I'm so glad we didn't miss that spectacle – although the hawk might have preferred a little privacy…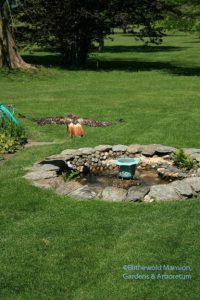 Are you feeling stressed out at all? Are you remembering to stop and contemplate the leucothoe?