Is it really only Thursday?! We've been busy busy busy.
The Tuesday crew (a very photogenic bunch – they're the only ones I have pictures of!) had a varied morning – first they un-planted one of the display beds to make way for more work on the grand redesign, then they
planted the "wedding pots" (giant pots at the entrance to the tent – which is occasionally used for other kinds of events!).
Hint: When un-planting keepers, it's a good idea to either re-plant right away – or if you have to hold plants over (as we often do), put them in full shade, cover the roots and keep them watered. They'll resent the disruption to their routine but with a little love and attention after replanting (water water water) they'll settle into their new spot.
Wednesday morning was pretty rainy (was it really only yesterday?!) so a couple of volunteers spent time at the potting bench transplanting seedlings, writing tags and keeping Gail and I on task. The Florabundas spent this sunny morning forking out massive amounts of onion grass (it's almost embarrassing) and making those first-impression entrance beds look well kept and cared for.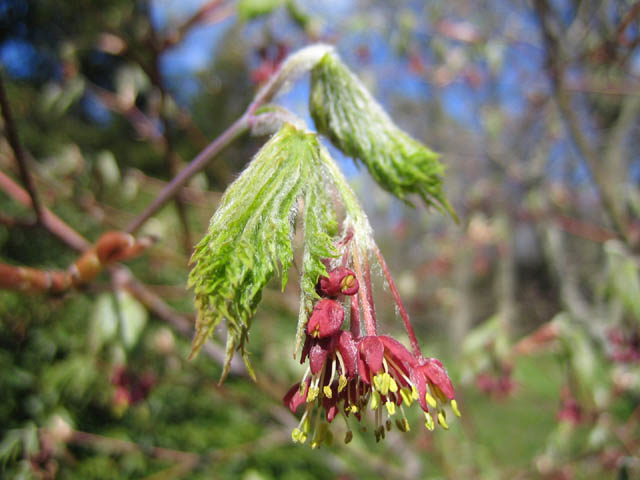 In my spare time (when's that?! – after sleeping, before digging!- ie. first thing in the morning) I've been cruising the property checking out all the spring ephemerals and sticking my camera up every flower's nose. The broad view is a stunner but look closely and you'll see things like more maple flowers – this one is Acer japonicum 'Aconitifolium' Cut leaf full moon Japanese maple.
And Mayflower, Anemone quinquefolia, a RI wildflower that blooms around the first of May. And does anyone know what this one is?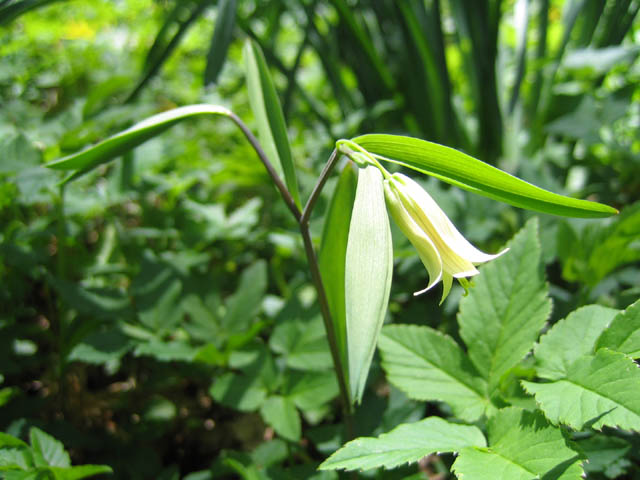 It's only about 4 or so inches tall and we spotted it near the interpretive sign in the Bosquet. Pretty little thing… probably has a name… !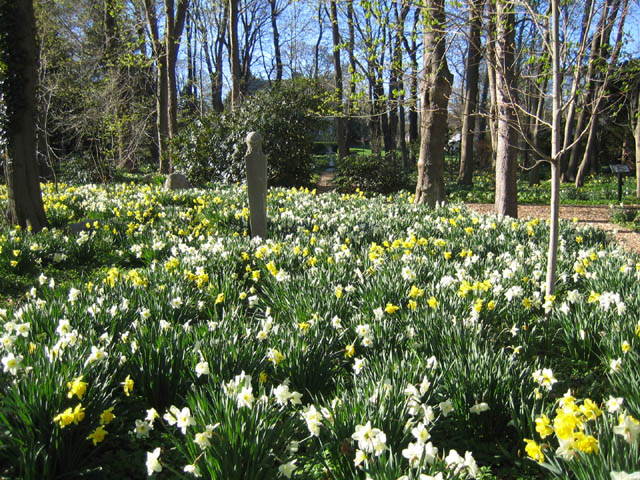 Not only are the daffodils still looking gorgeous, but the tulips are starting to bloom!
The orange ones (American Dream) are in the Cutting Garden and spectacular Tulipa 'Princess Charmante' are in the Rose Garden.