One of the things that sets Blithewold apart from other summer cottages in Rhode Island (aside from the grounds of course) are our extensive archives. The family left a priceless treasure of decades worth of photographs, letters, playbills, menus, journals, home movies and clippings in the attic – everything was saved. Generous family members have also passed relevant information and pieces from their own archives back into Blithewold's keeping.
For years and years a devoted corps of volunteers, under the direction of our curator, Margaret Whitehead -who herself, started as a tireless volunteer, have been cataloging, transcribing, and scanning everything – and finding new information every day. So far the rest of us have only been given glimpses into Blithewold's past by reading Margaret's newsletter articles and the interpretation in the house, and by begging for stories but now … drum roll please … I'm really pleased to announce that the archives will be blogged!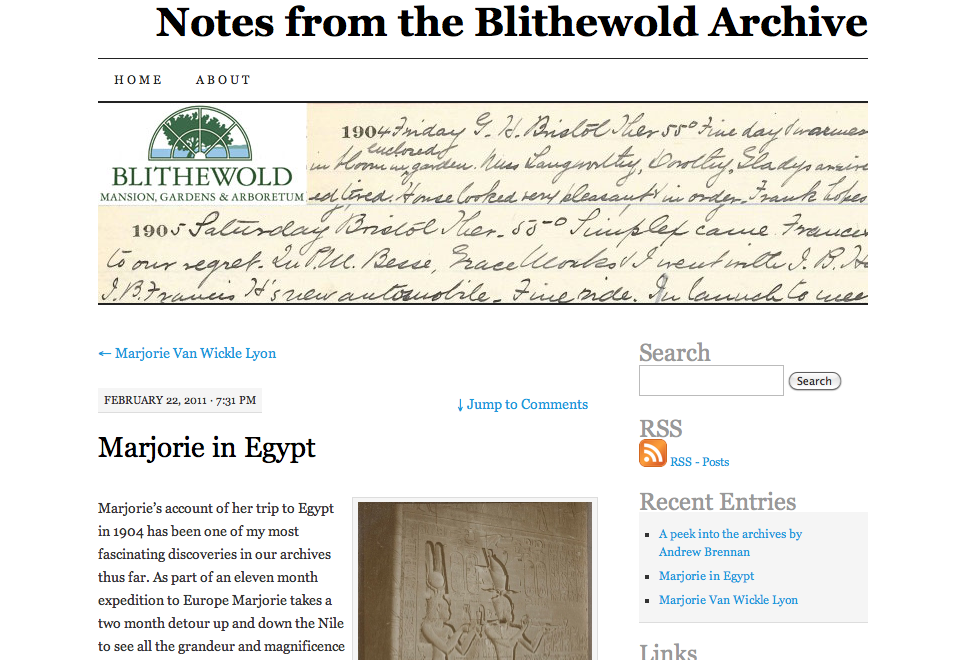 Andrew Brennan, an intern going for a Masters in History from Providence College, has embarked on an epic endeavor to publish (portions of) Blithewold's archives, along with his interpretation of them, to the interwebs. All of us who are interested in the family can look forward to getting to know Marjorie Van Wickle Lyon, the letter writer, and Estelle Clements, a habitual journaler, so much better.
He is beginning his journey with a particularly timely parallel – Marjorie's trip to Egypt in 1904 – and judging by his introduction, I can also look forward to learning much more than I ever knew about a different era… A time not-so-very-long-ago when letters were handwritten and journals were private…
The blog is still in beta form and it may move to a different address soon but for now you may read it – subscribe to it! – here.
Did anyone in your family write letters or keep journals? Were they saved and have you read them?