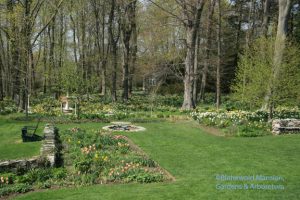 We scheme and we plan and we cross our fingers and we hope for a succession of blooms and then when everything blooms at once we say "Oh — Wow."  There's a brilliant carpet of daffodils still – if you squint a little it's possible to imagine that some haven't started to go by – and the tulips have started blooming in earnest – more abundantly than we thought after the deer graze and a little earlier than we intended. The tulips and daffs are beautiful together.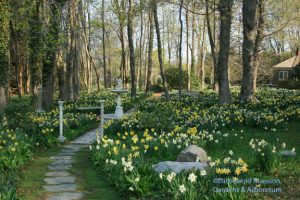 Late last July, Gail and Lilah made the final tulip order decisions – without me – and I have to say, they done good. For the Rose Garden, they chose Apricot Giant and Big Chief which I, without knowing what they intended, planted as a mix. It's gorgeous! They did clash a little last week with the Magnolia x loebneri 'Leonard Messel' but then they weren't really supposed to bloom together…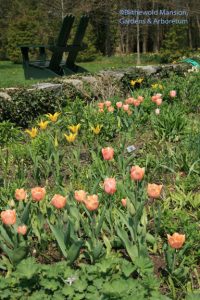 The North Garden tulips aren't all open yet but the ones that are, are a bit of a mixed bag. Apricot Beauty is a standby favorite and it didn't disappoint. We mixed Amazone with it which is just starting to open and promises to be a deeper orange/green apricot that I think is destined to become one of my new faves. Cistula is supposed to be a pale yellow and it's blazing hot (could it have reverted?) – but thankfully, it works anyway because of the daffodil echo. Dreaming Maid is more pink than the catalog pictures let on – we wanted it to be lavender and we're still waiting on Formosa and Black Hero (which we know we love).
The tulip trials in the Cutting Garden are tu gorgeous. We wondered what color(s) Gudoshnik would be…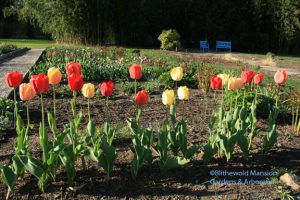 I've picked my winners in the lavender contest – Jackpot hits it and so does Violet Beauty so far – not all of the contestants have opened yet. Fringed Family (in the middle of the family portrait) is decidedly, definitely pink.
I have a winner for the yellows too:  I can see using Yellow Mountain in the North Garden next year…
And my choices for the North Garden, which were overruled and relegated to a Cutting Garden plot, are quite a nice combo so far too, if I may say, and definitely contenders for next year's North Garden display.  Pimpernel is the red, Annie Schilder is the orange, and of course Spring Green is the excellent green.  Bleu Aimable – supposed to be lavender – is still biding its time. Perhaps this year, before they all go by, we'll make a few combination bouquets and take pictures so that we'll (with Lilah's help again, of course) agonize less over the order come July.
Are your tulips blooming? Any surprises? Any favorites?