Starting right up where I left off last week (and in hopes that pictures of sunny summer flowers might ease the bone-chill of a polar vortex), here are the next seven in my baker's dozen of favorites. Again, roughly in order of bloom time, starting in July with…
7. Phlox paniculata 'Sherbet Blend'. I don't even really like summer phlox (blame a gardenful of P. paniculata 'David' that lost its resistance to mold) but this new one, with its green-tinged pink petals, had me at hello. That is, when I finally noticed it. I hope it proves to be at least as vigorous as old David.
8. Iris domestica a.k.a. Belamcanda chinensis – blackberry lily. I wasn't sure if I should show a picture of the crazy spotted flowers that unfurl from twisted buds or the shiny onyx "blackberries" revealed in the fall after the swollen green seedpods crisp up and open. Orange won out. This old-fashioned passalong plant is supposed to spread like mad and I can't wait.
9. Mirabilis jalapa 'Salmon Sunset' – 4 o'clock. This is another old-fashioned favorite best known for unsophisticated blow-your-eyes-out pink flowers and/or garish speckled yellow and pink ones. Salmon Sunset with its baby-pink centered peach flowers is almost too tasteful but I love it. It should come true from seed and we also saved the tubers.
10. Monarda punctata – dotted mint or spotted beebalm. These flowers are so exquisite up close and textural from a distance that they've been on my love-list at home for a while. It's a native that self-sows so I hope to see much more of it here next summer.
11. Helenium autumnale 'Tie Dye' – sneezeweed. Gail picked out this one along with 'Can Can' for the cutting garden and they were so fun when they bloomed (late summer) that I had trouble picking them. But then they were brilliant in arrangements too.
12. Salvia guaranitica 'Black and Blue'. No list of favorites would be complete without salvia. I loved them all (maybe especially 'Wendy's Wish' and S. leucantha 'Cislano') but none attract hummingbirds with the magnetism of this blue anise sage. Except maybe the very late blooming pineapple sage (S. elegans)…
13. Persicaria capitata 'Magic Carpet' – pink knotweed or pink fleece flower. My admiration for this plant has grown gradually — not nearly as quickly as the groundcover itself spreads. One reason for my slow love is that it didn't survive the winter outside last year. But Gail had the foresight to take cuttings and after replanting last spring it took off all over again. So vigorously that it's perfectly easy and reasonable to use it like an annual. Along with taking cuttings this fall we also potted up some layered sections. It's such a treat to have them blooming away indoors now. Outside, it flowered with cool temperatures or short days, going quiet in the middle of summer, and the leaves turned red in the fall.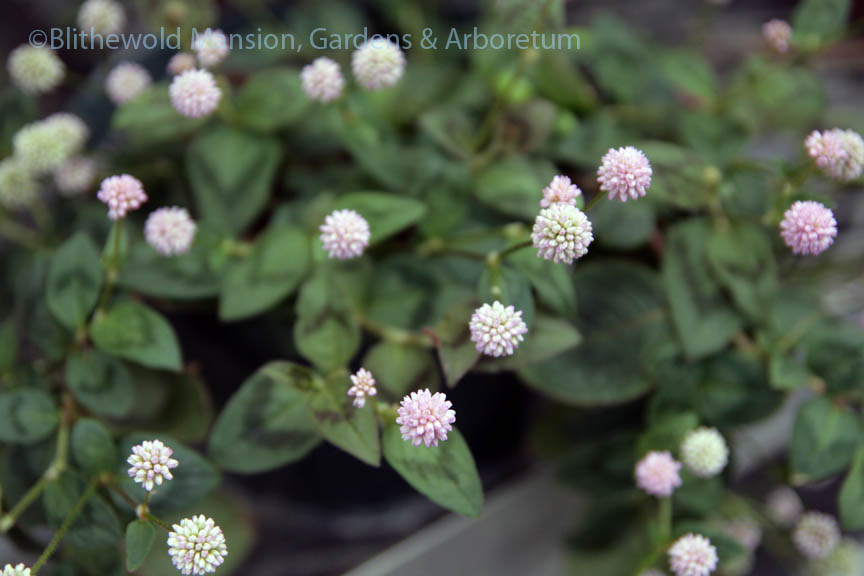 Now it's your turn – what were your favorites from 2013?