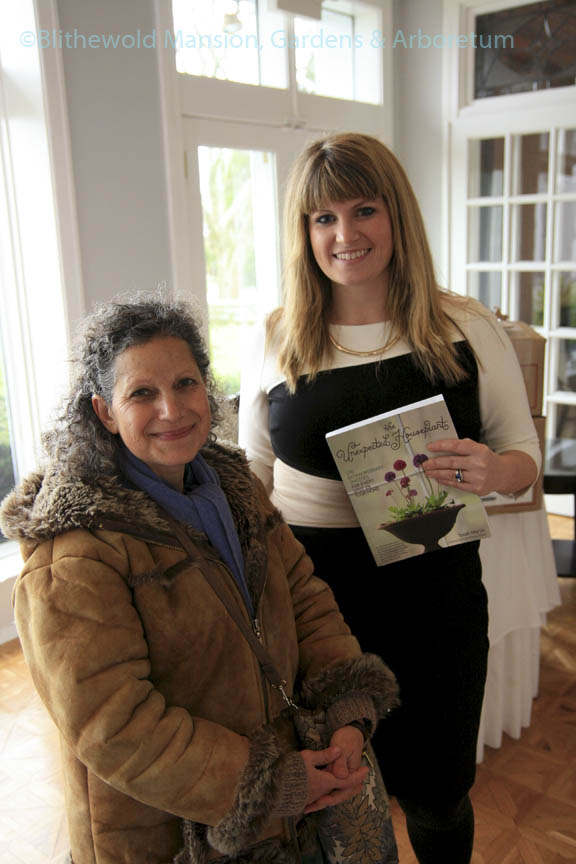 As soon as I published about Stephen Orr speaking at our Garden Design Luncheon, I found out that he couldn't get out of NYC. We know he would have been here if he possibly could and our thoughts are with him and everyone else whose plans – and lives – have been wrecked by Sandy. We are really counting our blessings, one of which is that at practically the last minute, Tovah Martin very graciously agreed to speak in Stephen's stead.
Tovah came to our rescue not only by braving a scary, snowy nor'easter herself to get here, but by speaking about infusing the garden with personality, and giving us a reminder that I'd like to have engraved on my hori-hori: don't worry so much about what other people think about your garden. And then she made a quick and gorgeous terrarium because, "if everybody in the world grew a terrarium, there would be no war." (It was kismet that we had already made terrariums — temporaryums, actually — for table centerpieces. We're that much closer to peace.)
Intermixed with practical design advice regarding repetition, textures, and shapes ("You've got to have balls. –I do.") Tovah also told us to "be happy in the garden." Know who you are and what you love. If, "in your heart of hearts," you love open spaces and gazing at the horizon, make your garden so. If enclosure is comforting, create it. When speaking about garden art and tsotchkes, she says, "if a miniature golf course moves you, go for it!" Plant orange and pink flowers together if those colors resonate for you (as they do for me) and then don't worry over what anyone might say about it. All of this advice hits home for me because (at home) I garden with wild abandon in an otherwise well-manicured neighborhood. I do worry a little about getting the hairy eyeball from my neighbors but in actuality, I have noticed returned smiles and what could be interpreted as nods of approval. Perhaps, as different as our gardens are from each other's, we recognize a kindred passion, just as Tovah does when she visits other gardens. And that's it right there. Tovah told me she's never been to a garden that she didn't think was amazing, just by virtue of it having been created. And the inspiring slides she showed reflected exactly that.
Tovah's latest book, The Unexpected Houseplant: 220 Extraordinary Choices for Every Spot in Your Home is already one of my faves, as is The New Terrarium (for obvious reasons). Read them and any of her dozens of others and be inspired to be you. And most of all – have fun.